Ron Tal's Email & Phone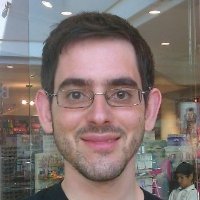 Ron Tal
Sr Machine Learning Platform Engineer @ Coinbase
Ron Tal Contact Details
Sr Machine Learning Platform Engineer @ Coinbase
Sr Software Engineer @ Uber
Sr. Software Engineer @ @WalmartLabs
-A software engineer with over four years experience in computer vision, machine learning and statistical modelling with particular focus on algorithm design and analysis -Thorough understanding of machine learning, probability theory and statistical analysis with vast hands on experience of algorithm implementation -Able to quickly learn new tools and concepts with very little supervision
Software Engineer @ From
ContactOut is used by recruiters at 76% of the Fortune 500 companies
Similar Profiles to Ron Tal
Alan Guibord

Co-Founder and President at Integrated Cyber Solutions, LLC

Scott Tavegia

Pro Desk Supervisor at The Home Depot

Brendan Heyck

Owner of InnoVisionary Consulting LLC

Myles Hiatt

Developer at NextGear Capital

Michael Heifetz

Principal at Michael Best Strategies

DirectBuy Portland

Chief Operating Officer at DirectBuy of Portland

Susan Crandall

Market Strategy | Brand Strategy | Legislative Affairs

Louisa Tavakoli, PMP

Board Member at Girls on the Run - DC

Gordon Mackey

Executive Recruiter at Spencer Stuart

Jamey Walthall

State Manager at Brethren Mutual

Vladimir Chopine

Photographer, digital environment artist and geek

Ross Emery

Strategic Sourcing & Planning Manager at Knowledge Services

Jamie Newbold

Business Manager, Professional Services at Amazon Web Services (We are Hiring)

Leo Sanders
Bob Grill

Owner, Bob Grill General Contractor, Inc.

James Hackman

Owner at Hackman Custom Woodworking

Jillian Einstein

Senior Clinical Career Specialist | PT, OT, and SLP Talent Acquisition at FOX

Donna Yergeau

Director of Legal Recruiting at Nutter

Sudesh Kishore

Senior Vice President, Hotel Operations at SeaDream Yacht Club

Michael Staskin

Marketing Strategist | Brand Champion

Andrew Ruder

Attorney at Pond Lehocky Stern Giordano

Carmen (Cheevers) Dowell

SMB Account Executive at Salesforce.org

Tony Crespo

Risk Management at CDN Logistics, Inc.

Craig Wietz
Antonio Gonzales

Direct Private/Hard Money Lender & Distressed Real Estate Acquisitions/Sales (619) 889-8579

Taylor Palkovich

Senior Account Supervisor (Beauty) at 5W Public Relations

Chuck Hartley

Manager - Network Operations at Bluegrass Cellular

Peter J. Hicks

Deputy Emergency Management Coordinator at LCRA

Rostislav Grynko

Ph.D Candidate, EMI Test Engineer

Kevin O'Brien

Global IT Director, FitFlop

Victoria Jennings

Tech Talent Partner at Argos

Junaid Khan

Senior Account Executive at SAP

Sarah Ormiston

HR Program Manager @ Expedia Group

Joe hiring)

Chief Product Officer at Zava building accessible, dependable healthcare. Did I mention we're hiring?

Leo Hawkins

Head of Talent at Virgin Media & Global Head of Exec Hiring Liberty Global

Kevin Cunnington

Director General, Goverment Digital Service

Leyla Hannbeck

Chief Pharmacist and Director of Pharmacy - National Pharmacy Association

Sarah McQuade

HR Director, Business Partnering EU at Ultimate Software

Alexander Hill

Chief Global Strategist at Senseye

Justin Thomas
Mohsen Bari

Product Manager at Facebook

Eric Korman
Barbara Zhan

Quantitative Research at Two Sigma

Rohit Girme
Brody Wing

Director, Programmatic Revenue at The E.W. Scripps Company

Roy Bingham

Serial entrepreneur, founder, CEO of data, information & insights businesses & former CPG exec, deal-maker & consultant

Eliot Buchanan
Terry DTM

★ ★ ★ ★ ★ Experienced Keynote Speaker | Self Esteem Architect ✔Helping Professionals be exceptional Speakers ✔

Yasmin W.
Looking for colleagues of Chris Shelby at Company Inc?