Tsung-Kai Lin's Email & Phone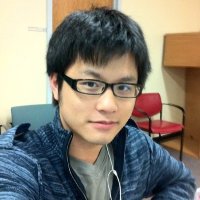 Tsung-Kai Lin
Senior Software Engineer @ Visbit Inc.
Tsung-Kai Lin Contact Details
Senior Software Engineer @ Visbit Inc.
Computer Vision Intern @ Occipital
Bachelor of Science @ National Taiwan University
Specialties Computer Vision, GPGPU, Computer Graphics, Mobile Engineering.
Computer Vision Engineer @ 1. Computer Vision Real-time camera tracking and 3D reconstruction software application and SDK. Has shipped many code from production to public facing user code. Extensive experience in optimizing algorithm into real-time mobile processing especially on iOS platform. Ability from prototyping the algorithm to real product for
ContactOut is used by
76% of Fortune 500 companies
Similar Profiles to Tsung-Kai Lin
Ann O'Hanlon

Associate Director, Human Resources

Marcos Almanza

Software Engineer at Intel

Sam Rabinovitz

Senior Consultant at Hypothesis Group

Mauricio Elizondo
Jason Haffeman
Colin Jacob

Senior Regulatory Affairs Specialist

Cory Baker

OneStream Consultant at Finit Solutions

Jonathan Bursztyn

Software Engineer at Salesforce

Anne Hoppe

Award-winning and best-selling children's books made with care and savvy. VP, Associate Publisher of Clarion Books.

Milton Lasnitzki

CEO at James Richardson Corporation Pty Ltd

Erik Sørensen
Shraddha Jain

Senior Software Engineer at Cisco

Hetian Yang

System Engineer at Fabrinet West

Ashley Chai

Associate at EY-Parthenon

Abhijeet Golwelkar

Senior Software Engineer at Irdeto

Lucy T.

Associate at EY-Parthenon

Kiana PharmD

Medical Scientist, Clinical Research & Development

Johan D.

Optical Engineer at EyeQue Corporation

Moran Klein

Image processing, computer vision, deep learning algorithm engineer at Intel Corporation

Lee Jones

Principal Engineer at Cisco Systems

Omer Rosenberg

Publisher Sales Manager at Taboola

Mohamed Hussain

Scrum Master / Technical Manager at GlobalLogic Latinoamerica

Michael Lubansky

Head of Product at RIA in a Box

Milan Mandic

Guidance and Control Engineer at Jet Propulsion Laboratory

Geoffrey Huntington

Aerospace Engineer at Blue Origin

Sampath Goud

Web Developer at ConnectiveRx

Kayla Goularte
Gary Pham

Software Developer at HarborObjects LLC

Koyel Mukherjee

Research Scientist at IBM Research - India

Matthew Wren

I help organizations benefit from #AR technology! | Cofounder/CTO @ BUNDLAR | President @ VRARA Chicago Chapter

Markus Hafke

Leiter Einkauf/Head of Procurement bei Wiebe Holding

Matthias Engel

Managing Director innogy Ventures GmbH

Martin Rösch

Head of Product - Plattformbusiness at kloeckner.i GmbH

Cameron Prebble

Fullstack Ruby Engineer at Savedo. Founder of mashblock.nz

Constanze Kiesel

Category Development bei dm-drogerie markt

Warren Vogt

Senior Director Sales, Managing Director/Entrepreneur

Dmitry PhD
Christian Scholz

Product Owner, CPO, Consultant

Massimo Chiappetta

Sales Director at Advantest

Dr Thierschmann

Vice President Production Unit Warehouse Systems at KION GROUP AG

Nicolò Pignatelli

Software Engineer @ Rocket Labs GmbH

Stefan Smolka

Managing Director / Geschäftsführer

Christian Hofmeister

Business Development Executive; Big Data, Integration & Governance bei IBM

Igor Lubawinski

Director employee engagement at Delivery Hero SE

Reka Goebel

Online-Marketing bei soulbottles

Vincent Kramar

Senior Program Manager, Cloud at Google

Pedro Costa

System Architect, Technical Lead - Automotive Microcontrollers at Infineon Technologies

Julius Göllner

Managing Director bei F&P Stock Solution
Looking for colleagues of Chris Shelby at Company Inc?