Sumit Gupta's Email & Phone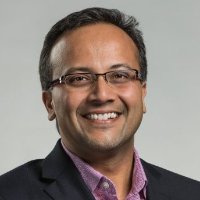 Sumit Gupta
Member, Technical Staff @ S3 Graphics
Sumit Gupta Contact Details
GM, AI & GPU Accelerated Data Center @
NVIDIA
Ph.D. @ University of California, Irvine
I have diverse experience in product management, product marketing, software development, and hardware design. I managed 10+ global product launches and was instrumental in building a new business, while we created a new market category from the ground-up. My expertise is centered around software and systems products in the enterprise and data center markets. I am currently
ContactOut is used by recruiters at 76% of the Fortune 500 companies
Similar Profiles to Sumit Gupta
Manish Nambiar

General Manager at Kempinski Gold Coast City

Deepak Chaubey

SAP BOBJ/BODS/BI-Analytics Professional (Seeking New opportunities, Ready to Join)

Gourab Kundu

Citi - Digital Sales, Marketing & Product Management

Harsha Sadashiva

Senior Technical Recruiter or Team Lead (Looking for New Job Opportunities)

udgith pandit
Neeraj Gargi

CTO - Intelegain, Co Founder - Researchbytes, Board Member - IAMCP

Partha Sarthi

Founder and Developer at Parift Technologies Private Limited

Yashwant Kulkarni

Manager Operations at Heritage Foods Limited.

Abdul Wahab

Head - Global Media, Data Partnerships and Publisher DMP, Vizury.com

Sudhakar Reddy

Founder & CEO, AbhiBus.com

Pankaj Verma

Senior Consultant - Android @ Allstate

Aman Singla

Vice President, Global Subsidiaries Group, Corporate & Investment Bank at Citibank India

Vijay Thomas

Regional Manager -Sales and Operations

Vijay Raghavan

Chief Executive Officer at GRT Jewellers P Ltd

Amit Warang

Staffing Manager - Honeywell Process Solutions

Malli Srinivasan

Vice President Marketing Triton Healthcare Pvt ltd

Shruti Bharadwaj

People Experience & Operations | Business partnering | Talent Acquisition

Harshdeep Singh Saluja

Member of Technical Staff at Nutanix

Manish Aggarwal

Head - IT at Parekh Integrated Service Pvt. Ltd

Amit Desai

Zonal Sales Manager ( West and South India)

Ron McLuckie

Master Action Learning Coach, leadership & organisation development authority

Dilip Gohil

AVP-Banking Operations and Channel Management at HDFC Ergo General insurance

Manisha Thakur

Senior Software Engineer at Insta Data India

Andrew Campbell

Senior consultant and CEO at Factor X Retail (FXR)

Rohit Punjabi

Sales and Marketing Excavator Business at Sany Heavy Industry India Pvt Ltd

Thomas Augustine/HR/Mumbai/HDFC Bank

Vice President Human Resources at HDFC Bank

Avinash Velhal

Certified Independent Director, Group CIO APAC, India & Middle East, VP, Head IT & Process at Atos International

Sajan Murali

Country Manager-India for Turtle wax ,primarily responsible for setting up the Indian operations and scaling up.

Chetan Nalawade

You can customize this invitation

Saravana Kumar

Data Engineer 2 at PayPal - Bigdata Technologies , Informatica, Teradata

Terry DTM

★ ★ ★ ★ ★ Experienced Keynote Speaker | Self Esteem Architect ✔Helping Professionals be exceptional Speakers ✔

Mark Wheeler

Software Engineering at Gusto!

Moyang Zhang

Software Engineer in Tools and Infrastructure at Google

Ellen Schloegel

Application Sales Manager - Oil & Gas at Oracle

Kenneth Mroz

Cloud Infrastructure Engineer at Grainger

J. Alexander Jennings

Optometrist at Eye Clinic of Racine

Steve Wampler

Principal Software Engineer at Indeed.com

Rohan Upalekar

Escalation Network Engineer at A10 Networks

Richard Dear

Data Science Tech Lead at Airbnb

Scott Moore

Managing Director - HVAC North America Field Service at Carrier Corporation

Bob McDaniel
Nishi Yeotikar

Software Development Manager II

Ruth Thompson

Software Engineer at Google

Ethan McMahon

Software Engineer at ShipBob, Inc.

Mohideen Kader

Application Architect / SW Dev Manager - Cloud, Microservice, NoSQL, Elastic, SQL Server, RabbitMQ, Kubernetes, DevOps.

Tianhui Shi

Software Engineer at TripAdvisor

Eric Schlanger

Software Engineer at Facebook

Bill Wetter

Sr Software Engineer at The Walt Disney Company

Eric Gan

Software Engineer at Microsoft

Yasmin W.
Looking for colleagues of Chris Shelby at Company Inc?