Rob Crigler's Email & Phone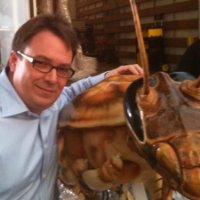 Rob Crigler
Vice President, Digital Marketing @ Rooms To Go
Rob Crigler Contact Details
Vice President, Digital Marketing @ Rooms To Go
VP Marketing, Global Digital Strategy and Integrated Marketing @
Rollins (Orkin)
VP of Marketing with extensive digital strategy and digital marketing experience focused on customer acquisition via all digital marketing channels. Expert in Search Engine Optimization (SEO) and Search Engine Marketing (SEM) as well as Mobile marketing.
Vice President, Digital Marketing @ Vice President of Digital Marketing with oversight of digital marketing programs for both in-store retail and ecommerce
ContactOut is used by
76% of Fortune 500 companies
Similar Profiles to Rob Crigler
Joyce Chamoun

Senior Manager at Luxury Retreats

Paula Kargas

Specialty Claims Supervisor at Chubb Insurance Company of Canada

Krishna Nair

R&D Manager at GreenLabs Chemical Solutions

Chloe Yike Xu

Regulatory Affairs Specialist at FGF Brands

Alex Orlotti

Technology and Business Process Manager - Canada at Enterprise Holdings

Jeff Brierley

Store Team Leader at Target

Salma Nassri
Taj Mian, MBA

Sr. Channel Manager at Prophix Software

Margot Bartsch
Brian Pudsey

Director of Business Development at Platinum Aerospace International

Justin Doherty

Manager of Training and Development at PT Health

Neven Salihagić (MBA, M. Sc. Eng. PMP, ITIL, Six Sigma,)

Project management, business transformation, optimization, architecture, solutions (re)engineering specialist

Chantelle Brimmage

--Owner and Operator of Professional Bookkeeping Company in St. Albert, AB. Specializing in Small Business.

Floyd Bjorgan

General Manager at Tridon Communications

Heather Leigh MacDougall

Occupational Health and Safety Consultant at Torgan Safety Consulting

Camille Eric Kouam

Independent Research Professional

Elio Marti

Territory Sales Consultant at Stephenson's Rental Services

J.P. Mackay

Timbercreek Asset Management

Tara Franciosa

CFO in House and Interior Decorator

Martine Plumet

International Sales Director at Épillyss

Robert Maeko
Brian Bachmeier

Engineering Manager at 3M Canada

Eric Pilote

Conseiller en sport / Sport Consultant | Chercheur dans le domaine des études olympiques / Olympic Studies Researcher

Ted Bushnik

Global VP R&D at March Networks

Mihai Saveschi

Director, Application and Data Security at CIBC

Hal Pieroway

Account Services Director, N.A. at Legal Advantage, LLC

Eric Legault

Global account Manager at Cisco

Kathleen Keil

Training Advisor, Business Performance Team, Human Resources at Alberta Health Services

Terry DTM

★ ★ ★ ★ ★ Experienced Keynote Speaker | Self Esteem Architect ✔Helping Professionals be exceptional Speakers ✔

Les Weibye

Vice President, Strategic Sourcing and Procurement at ConvergeOne

Barton Wells

Senior Level Technical Leader in Sports & Data Science, Algorithms, & Software

Xiaochang PhD

Data Scientist, Machine Learning at DoorDash

Blake Erwin
Evangelia Petrou

Senior Data Scientist at IG

Viswanadha Kondoju

Sr.Software Engineer at Credit Karma

Priya PhD
Edwin Beyer

Regional Sales Manager, Named Accounts at Splunk

Tyler Whitlock
Prakul Agarwal
Jeff Harper

Chief People Officer at HashiCorp

Raymond Carbone

Chief Financial Officer at Maxim Healthcare Services

Martin Gaida
Wenxuan Cai

Software Engineer at Google

Jason Pack

Senior Site Reliability Engineer at LinkedIn

Noam Chitayat

Senior Software Engineer at Ookla

Kejia Zhu
Thierry Vu

KUBERNETES, AWS - DEVOPS / ARCHITECT - Looking for a job opportunity as FREELANCE

Yasmin W.