Prasid Pathak's Email & Phone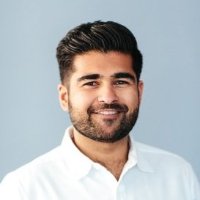 Prasid Pathak
CMO @ EasyKnock
Prasid Pathak Contact Details
Marketing Fundamentals @ Northwestern University - Kellogg School of Management
I've spent 10 years growing ed-tech products. I am outspoken in voicing the needs of the customer. Specialties: education marketplace platforms publishing referral programs marketing automation brand ambassador programs sales management sales ops If you are interested in changing the world through education, I'm interested in a conversation.
Head of Marketing @ Founded in 2012, Bloc was the
ContactOut is used by
76% of Fortune 500 companies
Similar Profiles to Prasid Pathak
Arthur Gast

Orthopedic surgeon at Diakonessenhuis

Tjebbe Tauber

Business Developer - Innovation & Design at ABN AMRO Bank N.V.

Stefanie Bakker

Jr. Luxury Brand Manager at Luxottica Group

André Fiering

ICT-teacher at Gilde Opleidingen

Hervy Bosman

Area Sales Manager at Grace de Neef

Gert-Jan Houkes BSc MBA

International Business Development Manager at Luxexcel NV

Bas Reefman

Purchase and Logistics at Tyro Remotes

Vivian Graaf

HR Manager | Business Partner | Interim | From strategy to execution | +31630465167

Ton Habets

CFO / Finance Director / COO

Ralph Kolbeek

Project Controller NEM IUB (interim april tm oktober 2015)

Khaibarai Momand

Technical Support Analist

Naoual Neddaoui
Martijn Plasmans

Technical Team Lead at Itum Solutions

Richard Heimans

Delivering successful change. Specialising in complex changes in international environments.

Jolanda Hoefnagels

Territory Manager at SITA

Janneke Schilder

Treasury Analyst at BinckBank N.V.

Jeroen Frumau, MBA

Entrepreneur in the design industry

Joren Schaap

Student aan IVA-Driebergen

Kim Bevers

Ervaren Marketing & Communicatie Professional | Creatief | Retail | FMCG | Branding | Online |

Lusine Martirosova

Assistent manager Telfort

Wouter Dassen AA

Accountant / relatiebeheerder at Vesting Accountants

Huub van Dijk
Jan Linker

managing director at Bedding Company B.V.

Bram Baan

Senior IT Project Manager bij KPN Zakelijke Markt

Rob Fronen
Yira Ooms

Human Resource Manager at Smurfit Kappa Vandra

Ellen Oude Lashof

Marketing Specialist in B2B and CRM

Stella Zijlstra

Junior financieel consultant bij Profource

Cor Hoogenboom

Regiodirecteur Technische Unie

Anne Turan

Dentist, looking for job opportunities

Terry DTM

★ ★ ★ ★ ★ Experienced Keynote Speaker | Self Esteem Architect ✔Helping Professionals be exceptional Speakers ✔

Gregory Coffeng

Full Stack Software Engineer - JavaScript, HTML, CSS, React, Redux, Node.js, Express, MongoDB, MySQL, C, Python

Akihiro Maeda

Engineering Manager @ LinkedIn

Vik Bansal
Marielle Macker
Yaprak Ayazoglu

Front-End Developer at Bol.com

Tahzeem T.

Linux Devops Engineer at Morgan Stanley

Barney Harrison

Chief Commercial Officer (CCO) at The Gym Group

Koert Buijze

Product Owner at Bitfactory

Lauren Swanson

Customer Success Manager at Poll Everywhere

Igor Ushakov

Lead Software Engineer at Vistaprint

Chily Fachler
Roy Hessel

EIR at Norwest Venture Partners

Lori McFarling

CMO/General Manager/Group SVP Global Brand Partnerships

Richard Long

Principal iOS Developer at Mobiquity, Inc.

Michael Pellini

Alive and Well: Section 32, Foundation Medicine

Amy Ma

Data Scientist at American Express

Eric L.

Senior Software Engineer at Flow (Flow Commerce, Inc.) [We're Hiring!]

Mohamed Haouache
Yasmin W.
Looking for colleagues of Chris Shelby at Company Inc?