Pilar Roig's Email & Phone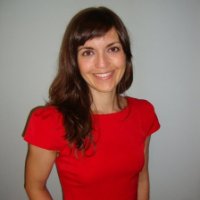 Pilar Roig
Customer Advocate Manager for GNPD (new product development) @ Mintel
Pilar Roig Contact Details
London, Greater London, United Kingdom
Customer Advocate Manager for GNPD (new product development) @
Mintel
Degree in Marketing and Advertising @ Universitat Autònoma de Barcelona
Senior Consultant/ Director @ Support Cervello's growth plans for UK and Europe, including new business proposal development, new project set up and coordination and best practice implementation within Big Data and Cloud-based Analytics areas. From June 2015 to Present (6 months) London, United KingdomSenior Consultant, Freelance - Client Director (Global Business Development) @ Develop solutions and product
ContactOut is used by
76% of Fortune 500 companies
Similar Profiles to Pilar Roig
Pascal Jaggi

EVP Operations & Engineering at Swisscom

Christopher Swerin

Engagement & Design Leader at Honeywell

Eric PAJOT

Facing ICT Evolution and new Mobility & Collaborative Trends

James Hochreutiner

Global Client Lead at Kelly Services

Jan Vichr

Founder at Canopei. Serial Entrepreneur and Investor. One ambition: enabling people to live a healthier life.

Patrick Tundo
Antje Bauer

Senior Shared Services and Data & Analytics Leader ¦ Offshoring, outsourcing, transformation ¦ Services from India

Stephanie Santschi

Meine Vision: Wissensvermittlung und Erkenntnisgewinn in kulturellen Institutionen zu vereinfachen.

Jenny-Ehrler Kathrin

Leitung Marketing-Verkauf bei SPOL AG

Fabian Kozisek

Area Sales Director bei Villars Maître chocolatier (Groupe Soparind Bongrain)

Nicolas Passaquin

Vice President, Global Head of Sourcing Delivery at Thomson Reuters

Tom Eugster

Projektleiter bei inova Solutions AG

Tania Papi

Fabric buyer @ 7 for all mankind

Michael Manelski

Postgraduate- Engineering, Novartis

Salomez Guilhem

Team Logistics Coordinator chez UEFA EURO 2016

Gilles Bernot
Laure-Anne Neri

Investment Advisor at HSBC Private Bank

Barbara Carl

Senior Production Chemist at CARBOGEN AMCIS

Antonia Fettelschoss
Ludwig Rimmelshausen

Head of Private Fund Investments at Exceed Capital (Rimmelshausen Family Office)

Mirko Vogelsanger

Looking for a new career challenge

Guy Benoit 赤司智己

Software Engineer at Novaccess

Peter Schafroth

Managing Director, Credit Risk Management Credit Suisse

Claudia Wyss

Leiterin Crossmedia Experience bei Helsana Versicherungen AG

Sarah Guth
Dominik Groenveld

Produktmanager bei der ABB

Olivia Ausserladscheider

Communication Manager for Nestlé Suisse SA

Anna Eppert
Terry DTM

★ ★ ★ ★ ★ Experienced Keynote Speaker | Self Esteem Architect ✔Helping Professionals be exceptional Speakers ✔

Satya Nadella
Eurydice Lafferayrie

Chief Data Officer chez Total Direct Energie

Marie-Laure Chalon

Business Angel, Administratrice de sociétés, Prof à ScPo ,

Huang Liu

Tech Lead / Solutions Architect / Senior Data Engineer / ex Senior Software Engineer #Big Data #DataAnalytics #AI #Cloud

Yannick PEREIRA-REIS

Scrum Master - Lead dev Symfony2 & AngularJs chez ZOL - Développement Web - PHP / Symfony

Vincent Taing
Eric Olsen
Damien Duhamel

Front-end developer at Aircall

Younes Khaldi

Presales Engineer at Splunk

Nicolas Richard

Mid-Market Account Executive at Acquia, helping organizations develop, deliver and manage their digital experiences

Barbara BELVISI

Founder & CEO at Interstellar Lab

Zakaria RACHID

Chief Information Security Officer at MNT - Mutuelle Nationale Territoriale

Régis Rouyard

Agile Web developer / Php Symfony chez ma-residence.fr

Arnaud Camus

Co-founder - Hiring software engineers

Florian Graillot

Investor @ astorya.vc (Insurance + Early-stage + Europe)

Kévin HEN

AdminSYS/DevOPS chez Zengularity // FABERNOVEL TECHNOLOGIES

Bill Ingram
Akriti Sehrawat
Yasmin W.