Pete Brudenell's Email & Phone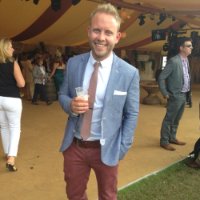 Pete Brudenell
Marketing Assistant @ James Villa Holidays
Pete Brudenell Contact Details
London, Greater London, United Kingdom
2:1 @ Roehampton University
Marketing professional with significant experience within the travel industry. Currently managing the partnership marketing team at British Airways Holidays.
Partnership Marketing Manager @ - Develop and implement the partnership marketing strategy for the business - Manage relationships with Tourist Boards, hotels partners and car hire provider - Manage large budget through the line marketing camapigns - Hold strong
ContactOut is used by
76% of Fortune 500 companies
Similar Profiles to Pete Brudenell
Saira Longhurst

Digital Project Manager at Estee Lauder Companies Europe

Tony Gallagher

Director at GAP Placements

Paul Fox

Contract Manager at Ian Williams Ltd

James McRory
Alexandra Reece

Operations Manager at Masterpiece Art, Design & Antiques Fair & Art Consultant

Al Gillies

Operations Manager at Care UK

Caroline Beggan

Global Content Acquisition Manager at Storytel Sweden AB

Paul Coates

Director at Gauntlet Risk Management Ltd

Simon Carter

Business Development Manager at Quay Office Group

Tomas Alexander Tveit

Associate - Corporate DCM at RBC Capital Markets

Nicola Harvey

Group IT Director at Creditsafe

Rob Gallagher

Research Director @Ovum | Consumer Tech, Media, Telco | OTT Video, 5G, Gaming, FAANG | Analyst, Consultant, Strategist

Conor Mckeon

Divisional Director at Virtual Human Resources

Simon Brooke

Trades and Labour Manager at Number 8 group

Jon Woodman

Managing Director at Paragon Risk Engineering

Tony Fitzpatrick

Owner, www.peoplematter.tv

Hollie Clarke

Sellar Design + Development

Ed Chester

Spacecraft Systems Engineer (CEng); Innovation and Project Manager; Technical Consultant; Lego Serious Play Facilitator

Roger Kemp
Mazen Jamal

Senior Engineer (Electrical) - Mission Critical Systems at Cundall

Will Hedden

Senior Sales Trader at London Capital Group

Mandy Zammit
James Massey

Sales Manager at Lead Forensics

Peter Santo

SchlegelGiesse. The International Division of Tyman PLC

Rhona Freeman

Looking for an exciting new job opportunity

Guy Hopson

Partner at Hopson Solicitors

Ben Jennings

Managing Director at Jennings Homes Ltd

Nick Morris

Commercial Director, Lifescaped | Director, RicNic Trust | Alumnus, New Entrepreneurs Foundation

Terry DTM

★ ★ ★ ★ ★ Experienced Keynote Speaker | Self Esteem Architect ✔Helping Professionals be exceptional Speakers ✔

Alberto Forero

Principal Interaction Designer - Analytics at Splunk - We're hiring!

Chris Gervang

Senior Software Engineer at Uber Elevate

Kasie Palin

Chief Executive Officer at K&R Provider Solutions

Shervin Najafi

Software Engineer at DoorDash

Priyankaa Vijayakumar

Senior Software Engineer at Netflix

Dean Liu

Software Engineer, Security at Lyft

Haili Dong

Data Scientist & Software Engineer

Kay Firth-Butterfield

Head of Artificial Intelligence and Machine Learning at World Economic Forum

Zhimin Xiang

Software Engineer at Google

Ryan Latham

Senior Software Engineer, Airbnb Growth and Traffic

Kirsten Korosec

Senior Reporter at TechCrunch

Beryl Wang

Product Designer at Radar

Udit Bajaj

Software Development Engineer at Amazon

Elliott Marquez
Kirsten Martin

HR Business Partner, Barefoot Networks an Intel company

Adriana Vecchio

Helping teams discover the strength of their network

Gagandeep Singh

Senior Full Stack Engineer at Turo

Susmita Kundu

Senior Software Engineer at Salesforce, Lightning Platform

Yasmin W.