Paul Dale's Email & Phone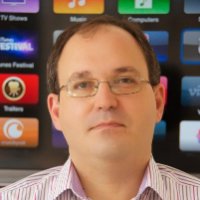 Paul Dale
Group Global CTO @ Dentsu Aegis Network
Paul Dale Contact Details
Kingston upon Thames, United Kingdom
Group Global CTO @ Dentsu Aegis Network
Career Break - Some time out with the family @ Taking a well deserved career break
HND, Engineering @ West Cumbria College
A highly experienced Internet, Consumer, Enterprise, Digital Media and Broadcast CTO / CIO / COO, focused on consumer facing, turn-around and start up businesses, taking technology from a business need, to strategy through implementation and on to operation. My expertise is equally at home delivering software, applications, integration and consumer propositions as it is working with outsource
ContactOut is used by
76% of Fortune 500 companies
Similar Profiles to Paul Dale
Dana Pate

Coaching, mentoring, advising, and protecting lives while changing operational culture.

Paul Pelletier

VP, US Sales at Nomis Solutions

John C. Momper
Joseph Ferrato

Sales Manager - Classic Automotive Group

Brigitte Eichner
Derek J. Wilson

President/CEO GlobalXMultimedia

George Kalant

Options Trader at Chicago Trading Company

Jamilla Deria

Program Director at Apollo Theater Foundation, Inc.

Walter Pietsch, Ph.D.

Engineering and Applications Manager at VAT, Inc.

Ralph Marucci

Medical Sales Professional

Amit Sao

Account Manager, Infosys Limited

Tommy Goodrum

Sales Representative at GenPac Inc.

Kristina Austin

Sr. Director, Global Alliances Marketing at Dell EMC

Odilo Mueller

Founder and President at CYTO Consulting

Anna Lucas, IIDA

Director of Interior Design and Business Development at JHS Architecture: Integrated Design, Inc.

Paula J Tomlinson

General Manager at Merrill Gardens at First Hill

Christy Merriner

Artist Management at Little Empire Music

Chiranjit Bordoloi

SME (Electrical Tools & Methods) at FCA

Kaitlyn Charette

U.S. DOJ, OCIJ/EOIR, Honors Judicial Law Clerk

Sylvia Imm

Sales Training and Capability Leader at Kimberly-Clark Professional*

Floyd RAG

Event Coordinator; Floyd Marketing and Sports, Exotics on Las Olas, Supercar Saturdays Florida, Warren Henry Auto Group,

Jessica Mueller

Assistant Coach, Women's Soccer and Guest Lecturer in the P.E.A.R. Department at Carleton College

Jeff Auerbach

Managing Principal at Excelsior Global Advisors LLC

R J Silvey

Sr. DB2 Database Administrator (DBA) (LUW) at Consert, Inc.

Matthew Valerio

Experienced Chief Executive, Criminal and Civil Litigator

Terry DTM

★ ★ ★ ★ ★ Experienced Keynote Speaker | Self Esteem Architect ✔Helping Professionals be exceptional Speakers ✔

Satya Nadella
Rohit Reddy

Vice President, Manufacturing, Conagra Brands

Zakaria DIALLO

Architecte Technique chez ARTE

Noelle Smith

SVP Experience Design, Creative Director - APAC & EMEA

Jean Henriquez

Software Engineer at Chase

Michael Ibbitson

EVP Technology & Infrastructure at Dubai Airports

Sanjay Arora

Deployed Computational Engineer/Data Scientist at Palantir Technologies

Silviu Fodor

Lead Software Engineer at Kore Trading

Craig McCoy

Interim HR Director, Consultant and NED

Xiaoming Yang

R&D Analytics Developer at Nanometrics

Esther Illana
Richard Smith

V.P. of Operations at Metal Finishing Company, Inc.

Lauren Buxbaum

Managing Director, Global Head of Talent Acquisition for Investment Management

Michael McCarthy
Steve Buonincontri

Senior UI Architect at Folio Investing

Andrew Rothbart

Engineering Leader at Facebook

Sela Yair
Kathy Zhou

Software Engineer and Artist

Yasmin W.