Nelson Perez's Email & Phone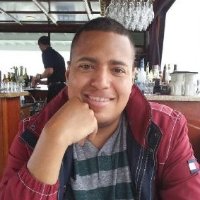 Nelson Perez
Senior Software Engineer @ DS-IQ
Nelson Perez Contact Details
Senior Software Engineer @
DS-IQ
Nelson is a seasoned high performance software professional with 10+ years of strong software engineering & leadership experience. Having proven record providing measurable value in Web, cloud services and Big Data for Windows Azure Active Directory, Exchange Online, Windows Live and Bing. Looking for a role as Lead, Software Developer or Technical Program Manager adding direct value
ContactOut is used by
76% of Fortune 500 companies
Similar Profiles to Nelson Perez
Ryan CWCC

Insurance Broker specializing in personal coverage for families, farm & equestrian properties and commercial risk.

Victor Carbajal

Human Resources Specialist at Aramark

Nicholas Sanderson

CEO, Laundry Locker & Board of Directors, San Francisco Chamber of Commerce

Sandeep Sodhi

Sr. Recruitment Specialist at Mindlance

Todd Lightbody

Architect Leader - Watch Technology Transformation at Nielsen

Matthew Milone, Esq., CEDS

Client Services Manager at Complete Discovery Source

Jay Galindo
John McKitrick

Sales Manager- Project Leader

Lily Dorman Colby

Fellow, Sponsored By Pillsbury Winthrop Shaw Pittman at Equal Justice Works

Crystal Richardson

Business Development Manager

Dan Ramella
Victor Chow, CFA

Treasury Manager at LinkedIn

Brad Crowell

Ops Specialist, TV Host & Your Web Dev Guy

Gautam Sharma

Life Sciences Executive responsible for SAP Life Sciences North America at Capgemini

Todd Watt

Market Research Analyst at MTN Retail Advisors

Elisa Rothstein

Freelance Digital & TV Showrunner

Ed Woodson

Chief Legal Officer at Syncapay, Inc.

Don Cavin
Andy Benjamin, J.D., Ph.D., ABPP

Advising family businesses while serving at Independent Management Role as a Lawyer and Clinical Psychologist

Steve Durant

Clinical Psychologist-MGH

Loretta Longo

Human Resources Generalist

William Michel

Project Manager at Ideas, Inc

Jeannie Bond

Sr. Sales Representative at ZO Skin Health, the Dr. Zein Obagi Company

Deirdre Lopez

Non-Profit Program Development l Community Engagement l Communications

william heathcock

assistant crane operator at Transocean

Sally Piao

Vice President at Oracle America, Inc

Jack Murrell

Envisioning New Ideas for the Internet

Bowen (Minnie) Wang

Marketing Manager at Amazon Web Services

Greg Doersching
Jennifer Rice
Joe Gannon

Account Executive at NetSuite

Hemant Pathak

Principal Software Engineer / Team Lead at Eliza Corporation

Han Lee

Engineering Manager at Uber

Mike Wright

CTO | 500 Startups Alumni | Technical Development and Team Management

Erica Woolsey

Talent Acquisition at Netflix

Matt Adle
Adrianne Court
Kaitlin Reiss

Chief Marketing Officer Laser-Focused on Brand Building & Revenue Growth: Digital Marketing & E-Commerce Expertise

Nick Burton

Senior Product Manager at Uber

Jinhee Kuhl

VP, Global Talent Acquisition at F5 Networks

Kimberly Rose

Chief Technology & Information Officer

Mark Kaufman

Senior Vice President, Engineering at NuoDB

Robyn Mingle
Will Cousins

Product Management Leader

Aleksei Zakharov

Software Engineer @ Instagram

Terry DTM

★ ★ ★ ★ ★ Experienced Keynote Speaker | Self Esteem Architect ✔Helping Professionals be exceptional Speakers ✔

Satya Nadella
Yasmin W.
Looking for colleagues of Chris Shelby at Company Inc?