Marius Watz's Email & Phone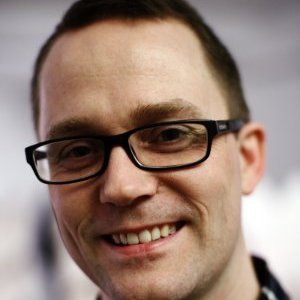 Marius Watz
Adjunct Assistant Professor @ New York University
Marius Watz Contact Details
Marius Watz (NO) is an artist and educator working with visual abstraction through generative software processes. His work is concerned with the synthesis of form as the product of parametric behaviors. He is known for his hard-edged geometries and vivid colors, with output ranging from software works and public projections to physical objects produced through digital fabrication
ContactOut is used by recruiters at 76% of the Fortune 500 companies
Similar Profiles to Marius Watz
Gali Kraft

גלי קרפט - מנחת קבוצות ומאמנת אישית

abed byadsi

Student at University of Haifa

Yuna Drori

Pedagogical Manager and Training Developer

Tzachi Zaccai

Software Engineer at NovaSight

Yorai Gabriel

Product Management Course Leader at Elevation

Marina Choikhet
Sheryl Katz

Independent English content writer - experienced, creative, effective!

Liat Yitshaki

Head Of Operations at Endor Software Ltd

Rina chakour

VP of Marketing and Business Development at Phoenicia flat Glass Industries Ltd

Alexandra Kestin

Marketing Manager & Content Expert at Freelance Marketing and Creative Services

Or Sagi

SW Team Leader • I'm hiring!

zvi netzer

CEO at FCD ASICS and Ethergate

Elad Sharon

President, Cyber Intelligence Solutions & General Manager, Verint Systems LTD.

Pavel Ocheretny

Software Engineer at Intel Corporation

Mor Epel

Fraud Analyst at Riskified

Rebecca Davison

Campaign Manager at Waves Audio

Erez Livneh

Advancing disruptive biotechnology

Hany Natanzon
Eva Tzur
Yaron Melloul
Arnon Peleg

Senior AI Product Line Manager at Intel Corporation

israel lorenz

Android Lead Developer at PayBox

Rotem Bassa Abrahmov

Senior Consultant at Deloitte Analytics

Galit Shimel

MAM Marketing manager at Alpa Cosmetics

Mickaël Barkatz

Director of Business Development chez Apps Booster

Shlomit Rogel

Managing Partner at More Diamonds Group Ltd

Oshrit Aviv

Founder at Entero | Tech and Data Compliance Expert | Entrepreneur | Lawyer

fayek rouk

head of pathology deprt. at European Gaza Hospital

Miki Bergin
Eddie Freeman

Software Engineer - Leader of Things - Technology Enthusiast - Writer

Nisha Batra

Partner Engineer at Facebook

William Kaper

VP of Engineering at Root Insurance Company - Working with and hiring innovators to help build Root!

James Kenney

Associate, Health Practice and Co-Head, University Relations at Egon Zehnder

Chad Nuss

Chief Revenue Officer at InsideOut

Ariel Walker

Senior Search Specialist at Oracle

Shane Kovacs

Managing Director, Healthcare Investment Banking

Nicole Laughlin

President & Chief Client Officer at Havas Chicago Creative

Adam Froehlich

Currently hiring for Salesforce, .NET, Java, Drupal, Mulesoft, Siebel and entry level IT positions.

Michael Alt

Always Curious Software Engineer. Livin' on NodeJS and Lambda

Matt Francis

Global Salesforce Practice Leader

Laura Griffith

Global Talent Acquisition Leader at YETI Coolers

Tim Kellund

Corporate Account Executive at Box

Marie Que

HR Director at Standard Cognition

Frank Hurst

President - Roadrunner Freight

Angela Carrales

Senior Director, Marketing 7-Eleven, Inc.

Rosemary Straut

Account Executive at Square

Henrik Ohlsson

Vice President, Data Science at C3.ai - We are hiring!

Terry DTM

★ ★ ★ ★ ★ Experienced Keynote Speaker | Self Esteem Architect ✔Helping Professionals be exceptional Speakers ✔

Yasmin W.
Looking for colleagues of Chris Shelby at Company Inc?