Kristen Flores's Email & Phone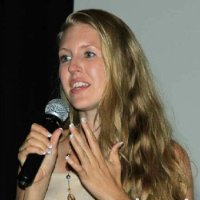 Kristen Flores
Talent Agent @ Beverly Hecht Agency
Kristen Flores Contact Details
Talent Agent @ Beverly Hecht Agency
Producer @ Various
Kristen is transitioning into representing actors and below the line creative talent at Beverly Hecht Talent Agency. The Beverly Hecht Agency has represented acting talent for 75 years. Additional entertainment industry experience includes: As a Producer for T Group and various production companies, Kristen oversees all aspects of television production including creating story content, pitching, securing cast,
ContactOut is used by recruiters at 76% of the Fortune 500 companies
Similar Profiles to Kristen Flores
Kelly Ewing

Senior Recruiter at Liberty Mutual Insurance

Rick Vargas

Senior Engineer - Internal Systems at Orbitz Worldwide

Steve Okla

X-Ray Product Sales Specialist at GE Healthcare

Scott Hazlett

Vice President, Certification Business Development at PSI Services LLC

Adam Springer

Ideation Director / Creative Director @ 1000Heads NY

Lisa CPRW

Recruiting Team Lead for AI, Machine Learning, Data Science/Dev., Robotics, Software Dev. & Digital Marketing Experts.

Yvette Caslin

SVP Strategy and Development, Steed Media Group

Stephanie Kaplan

Director of Rehabilitation at Casa Colina Centers for Rehabilitation

Chris Zhao

Manager, M&A and Corporate Development at Qualcomm

Brandon Parkes

Emerging Philanthropic Profesional

Lisa Lahiji

Chief Marketing Officer at Eurest

Megan Eskey

Digital Influencer/Open Government Consultant

Lance Appelbaum

CEO/Founder, Fossil Farms Game & All Natural Meats

Rudy Gonzalez

Portfolio Property Manager at AJ Clarke

Jacqueline Krain, MBA

Experienced Leader, Rainmaker & Advisor. Innovator, Strategist, & Change Optimizer.

Steven Newman

Commissioning Superintendent at CB&I

Cindi Wudyka

Business Development Director Staffing & Recruiting I "Growing Business By Adding Value"

Mike CPA

Commercial Banking Change Lead

Eric Huskey

ERP | SAP Business One | Managed Services | IT Strategy | IT Support | Healthcare IT | Disaster Recovery |

LouAnne Reynolds

Senior Director, Global Partner Marketing at PTC

Rick Browne

Marketing, Brand Development, Global Sourcing, Manufacturing and Fulfillment

Joshua Osborn

Strategic Account Manager at ePlus Technology

Paul Copeland

Regional Sales Manager at Bard Medical

Jeremy Carnahan
Alan A. Schachter

Partner, Valuation & Forensic Services Group at Citrin Cooperman & Company, LLP

Noah Winter

Jr. Business Affairs Manager at 72 and Sunny

Bill Daniels, MBA

Quality & Compliance Expert with Innovative & Creative Passion for Customer Experience, Coaching People & Results

Terry DTM

★ ★ ★ ★ ★ Experienced Keynote Speaker | Self Esteem Architect ✔Helping Professionals be exceptional Speakers ✔

Maartje Frederiks

Founder HelloFresh Benelux B.V. at HelloFresh

Mihaela Oprea

Java Developer at ING Nederland

Chantal Bakkes

Talent Manager (HR / Recruitment) @ Lukkien

Olivia QIU

Chief Innovation Officer at Signify. Chairwoman International, Industrial & Digital Strategy Committee at Groupe Renault

Adnan Sawadi

Delivering Measurable Return on Knowledge | Learning Technology | Gamification & AI

Daniël Siahaya

Scaling Up HeadFWD.com | Founder | Freelance Product Owner

Stefan Sluijter

Senior Sitecore Developer at ParTech

Simon Koudijs
Paul Rijneveld

Software Engineer at Mendix

Daphne Noordhoff

Global Director of Talent at Backbase

Jeroen Heijster (no recruitment agencies)

.NET Developer at Keylane

Jolanda Verhoef

Lead Android Developer at Coolblue

Aniek Vet

Marketing en communicatie, horeca

Sergej Obžigailov

Business intelligence and data scientist

Ray Gibson

Innovator | Startups, HR & Recruiting

Simone Mark

Account Manager Civiele Techniek | Brunel

P.C. Mingaars (Patrick)

Project Manager - Release Manager at KPN iTV

Yasmin W.