Jo Brandon (MREC)'s Email & Phone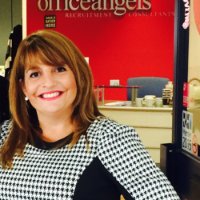 Jo Brandon (MREC)
Principal Branch Manager Bracknell and Slough Offices @ Office Angels part of the Adecco Group UK&I
Jo Brandon (MREC) Contact Details
Weybridge, Surrey, United Kingdom
Having over 20 years within the recruitment industry, I am an experienced and professional recruiter, operations manager, trainer and coach. Experience of managing multi-site recruitment operations and growing successful teams. Office and professional recruitment specialist; covering all Office Support Roles from Graduate to IT Professionals and everything in between. Specialties: Recruitment and training,competency based interviewing, business development,
ContactOut is used by
76% of Fortune 500 companies
Similar Profiles to Jo Brandon (MREC)
Eamon Guerin

Attorney at Guerin Law Office

Stephen Hopf

Associate Design Director at HUGE

Caren Kabot

Account Director at Travel + Leisure

William Lusk

Director of Operations/Publisher at Homeland Security Outlook

Robert Sorsby

Account Executive at Amazon Advertising

Dana Bean

Nonprofit Development and Communications Executive

Jay Drucker

Owner - Draftsman and Detailer at JDP Designs LLC

Erin Fredman

Head of Creative Strategy at Tongal

Lacey Crews
Frank Ruggiero

Marine Application Engineering Manager (Global) at Cummins Marine

Michael Giambra

Director of Sales at Eurpac Warehouse Sales

Ginger Lynch Landy

Partner, Hodes & Landy, Inc.

Justin Vartanian

Associate General Counsel, Corporate, Franchising & International at Planet Fitness Headquarters (Newington, NH)

Joseph Aberjel

Owner, new york home sales

Geoff Mather

Director- Strategic Corporate Accounts

Dan Sperring

Director-North American Account Management

Michael Prestano
Victoria Silverman

Managing Founder at Cook Silverman Search

Drennan Burns

Leasing Specialist at Waterton Residential

Ira Holt

Director of Financial Services Consulting at Analytic Focus LLC

Alan Schlossman

Senior Mortgage Loan Officer at Citizens Bank

Pippa Wilson

Team Sales Director at Barrington James USA

Michael DeCristofaro

Director of Operations at John W. Engeman Theater at Northport

Darren Ferris

Director of Marketing Strategy and Planning

Jill Engel

Executive Director, Partnership for the Arts and Humanities

Steve Ference

Associate VP for Marketing and Communications and Media Advisor to the President and CEO at SUNY Polytechnic Institute

Desmond Gayle
Terry DTM

★ ★ ★ ★ ★ Experienced Keynote Speaker | Self Esteem Architect ✔Helping Professionals be exceptional Speakers ✔

Satya Nadella
Henry Zhu

Consultant, Analytics Developer at Nomura

Pablo Martinez

Machine Learning Engineer at CrowdAI

Mike Casey

Senior Software Engineer Team Lead

Stephanie Stadler

CMO & Co-Founder bei MyStorage

Guillaume Duhan

Développeur Front-End Vue.js, Wordpress, Node & Firebase

Keith Richman

Entrepreneur; Board Member at GrubHub (GRUB); Vostok New Ventures (STO:VNV-SDB); Angel Investor

Adolfo Reyes

Software Engineer / Full Stack Developer / Web Developer / API Developer

Scott Leon

Senior Build and Release Architect at MIB Group, Inc.

Simon Booth
Kristina Burow

Managing Director at ARCH Venture Partners

Rolf Schultz

Chief Executive Officer at The RoomPlace

Dennis Seydel

Global Marketing Leader at the intersection of Culture & Technology

Paul Kennedy

Senior Software Engineer at HERE

Michael Beckerman

Founder & CEO | CREtech | The News Funnel | The Content Funnel

Farhan Malik

Chief Technology Officer, Open Source, Digital Health, Emerging Technologies,Artificial Intelligence, Robotics,Aerospace

Alvin Tan

Software Engineer at Google

Triman Nguyen

Software Engineer at Cisco

Yasmin W.