Jasreet Hundal's Email & Phone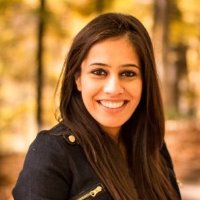 Jasreet Hundal
PhD Candidate in Human & Statisical Genetics @ Washington University School of Medicine
Jasreet Hundal Contact Details
PhD Candidate in Human & Statisical Genetics @ Washington University School of Medicine
Bioinformatics Scientist (Cancer Genomics) @ The Genome Institute, Washington University School of Medicine
Bioinformatics Investigator (Technology Development) @ The Genome Institute, Washington University School of Medicine
@ Georgia Institute of Technology
Computational Biologist with over 5 years of experience, who can turn raw genomic sequencing reads into cool analysis using statistical and bioinformatics tools! Looking for part-time remote consulting opportunities, preferably in cancer genomics and personalized medicine.
PhD Candidate in Human & Statisical Genetics @ Laboratory of Dr Elaine R. Mardis, The Genome Institute | Washington University From August
ContactOut is used by recruiters at 30% of the Fortune 500 companies
Similar Profiles to Jasreet Hundal
Christopher Hyder

Chief Financial Officer at Summers-Taylor, Inc.

Harrison Brazier

Strategist | Coach | Sales Professional | Business Developer

Sean Curran

Intern Mechanical Engineer at Kayem Foods Inc.

Jose Blasac

Senior Consultant at Technical Fellows

Cesar Martinez
Yasmine Ramouni

Freelance Photographer/Retoucher at Yasmine Ramouni Photography

Ashley Martin

Microsoft Dynamics AX Implementation Specialist at Mattress Firm

Bryan Weaver

CCNA Group IT Director - Finance-Supply Chain-HR at The Coca-Cola Company

Roger Price

GSI North America Director of Grain Sales and Service

Mark Salerno

Driven, Dedicated Digital Marketing Professional

Lou Kleiman

Creative Marketing Operations at McKesson

Kelcey Coffin

Trader at Octagon Credit Investors

Yingying Lin

Tax Manager at EisnerAmper LLP

Harshad Ladha

Resident Physician at The University of Alabama at Birmingham

Laird Burnett

Vice President at Kaiser Permanente

Sue Blecman

Innovative Clinical & Commercial Cryogenic and 2-8C Solutions for Biopharmaceutical, IVF and Animal Health

Sam Halum

President/Owner- City Gear

Erinn Skiba

Emergency Management Senior Planner at Hillsborough County Fire Rescue, Office of Emergency Management

Karan Bahl

Automation Engineer at Genentech

Madeline Diamond

Associate Digital Editor at Travel and Leisure

Noelle Cornelio

PR & Marketing at Momofuku

Cal Knight

President and CEO of John Muir Health | A Leading, Integrated Health System Known for Excellence, Innovation and Service

Wayne Gathright

President, W G Software, Inc.

Brian Arnold

Certified Moving Consultant at Reebie Storage and Moving Company, Inc

Rass Kearney
X. Eyeé

Army veteran working to reduce bias in Artificial Intelligence!

Yekai Peng

BI | Data Engineering | Analytics | Science

Christiana Pittashi

Senior auditor in the financial services department at BDO USA

Lisa Sgro

Franchise Owner Dairy Queen Orange Julius

Jeroen Lieshout

Solution Developer at Avanade

Ralph Wildeman

Head of Global Compensation & Benefits at ASML

Stepan Reznikov

Senior Front End Developer and Team Lead at Booking.com

Giuseppe D'Alessio
Frederic Souren

Sales Director at eCruitment | Sales Director Recruitment Services at Jobs & Media Group

Roelant Prins

Chief Commercial Officer at Adyen

Danny Burlage

Founder & CEO @ Wortell - Beste werkgever 2018-2019, meervoudig #1 Microsoft Partner of the Year

Jerry Bax

Resource Developer at Bonque

Rick Richter

Stagiair Development at Gillz, dé internetspecialist voor creatieve bureaus

Wessel Terpstra
Dainah Gijzen

Helping business owners to develop their performances

Max Boxel

IT Consultant at Oracle Nederland

Marjolein Horsten

Senior Analyst Omnichannel Transformation at PVH Corp.

Berend Bouwmeester

Country Manager Benelux at SynerTrade

Erik Jan Lam

Senior Frontend Developer at LBi

Maikel Gommans
Stefano Baccianella

Director Software Development - Commercial Operations Technology

Tom Langeslag

Lead Software Developer at Comaxx

Jonard Rood

Digital Innovation Manager @de Volksbank

Johan Lopik

technical account manager
Looking for colleagues of Chris Shelby at Company Inc?