Darren Haas's Email & Phone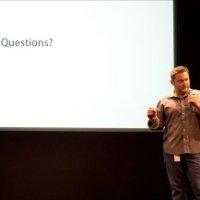 Darren Haas
Head of Enterprise Technology - Hiring CIO's and CTO's @ Amazon Web Services (AWS)
Darren Haas Contact Details
Head of Enterprise Technology - Hiring CIO's and CTO's @ Amazon Web Services (AWS)
Co-Founder and Advisor @ Change.org
Board Member @ Open19 Foundation
Passionate and always after the impossible. Enjoy Multi-tier Applications and Distributed Systems Architectures.
Sr. Engineering Manager @ Manage DevOps teams Introduced Hadoop at scale, Mesos, and new breed HPC. Working on next gen PAAS.... From May 2010 to Present (5 years 8 months) Founding member and Advisor @ Helped start change.org Raised Seed Funding Coded first Ruby on
ContactOut is used by recruiters at 76% of the Fortune 500 companies
Similar Profiles to Darren Haas
Joseph D. Burns, CAIA, CFP®

Senior Vice President, Investment Strategist

Russ Hire

Senior Real Estate Manager at Dollar Tree Stores, Inc.

Sean Crotty

Staff Research Operations Program Manager at VMware

Marc J. Tenzer

Consultant at MJT Consultants

Kenton R. P. Fabrick

Clinic Administrator at Allied Health Clinic, LLC

Jay Sthilaire

Real Estate Expert Trainer,Mentor,Coach,Author,Chief Hotstick Lineman @ New York Power Authority

Ruben Moreno
Libby Emmons
Jenna Gathman

District Manager at Mannington Mills, Inc.

Megean Salinas

Director, Agencies at Marin Software

Atul CSM

Information Technology (IT) Leader | PMO | Product Management | Agile Operations | Digital Transformation | Innovation | Oil & Gas

Casandra (Zobal) Calawa

Marketing Director, Forrester Research

Travis Decker
Adrianne Gers

Director of Marketing at Center for Athletic Performance & Physical Therapy, Physician Liaison

Michael Montenes

President, M.S. Hi-Tech Inc.|Winner SBA's Sub-Contractor of The Year Award| Franchised Electronic Components Distributor

Patricia Horne

OSP Fiber Design Supervisor at C Spire Fiber.

Charlie Henrich

Vice President / General Manager at Meredith Corporation

Mauricio Chavarria

Managing Partner at Amie Partners LLC

Don Brewer
Tiffany Geiger

Account Executive at Merkley + Partners

Alex Halisky, AMP

Vice President, Direct Lending at Homeward Residential, Inc.

Dan Gallery

Exploring New Opportunties

Donna Milgram ▪ Recruit More Women to STEM

Empowering Educators with Proven Tools to Recruit & Retain More Women in STEM

Rachel Bates Wilfahrt

Associate Director of Prospect Development at University of Denver

John Danilov

VP, Zonal Underwriting Manager, AIG

Katie Gillen

Content Associate at ESPNU

Marcus Novy

Senior Account Executive at Hitachi Vantara

Terry DTM

★ ★ ★ ★ ★ Experienced Keynote Speaker | Self Esteem Architect ✔Helping Professionals be exceptional Speakers ✔

Satya Nadella
Yasmin W.
Adam Venis

Software Engineer at Riot Games

Iqra Shahid

Associate Software Engineer at BlackRock

Amitpal Tagore

Data scientist at Integral Ad Science

Chris Hall

VP/GM Customer Experience at Adobe

Meghana P

Software Engineer at Fidelity Investments

Scott Tweedy

Customer Success & Experience Visionary | Innovation | Strategic Operations | Digital Transformation | eCommerce

Patrick Bauer

Senior Director, Global Material Planning & Logistics at Dana Incorporated

Lennart Paul

B2B Digital Commerce as a Mindset

Wayne Saucerman

Sales Director-AI, Big Data & Analytic Solutions at Cognizant

Sky Meltzer

Executive Chairman at WellSet

Seth Klein

Chief Financial Officer at Bridg

Saif Hasan

Software Engineer at Facebook

Stefana Pricope

Talent Specialist - UK & EMEA @ VASHI

Nick Aldwin

Senior Software Engineer & Tech Lead at Teikametrics ------ I WILL REFUSE ALL RECRUITING CALLS AT THIS TIME

Moya RAC

Senior Vice President, Global Quality and GxP Compliance at Orchard Therapeutics

Melody Hildebrandt

Executive Vice President, Product & Engineering and CISO at FOX

Joan Pujol

Machine Learning Engineer at ZOE
Looking for colleagues of Chris Shelby at Company Inc?