Andries De Villiers's Email & Phone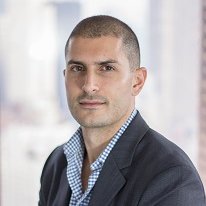 Andries De Villiers
Vice President of Sales, East @ Outbrain
Andries De Villiers Contact Details
Vice President of Sales, East @
Outbrain
Vice President of Sales, East @ From January 2015 to Present (10 months) Greater New York City AreaSenior Vice President @ -Revenue Driver -Responsible for building the Sales, Marketing, and Ad Operations/Platform departments from the ground up -Developed and executed Agency relationships for all majors (WPP, Publicis, Interpublic, Havas, Dentsu, Omnicom, Sapient) -Closed and launched >60% of
ContactOut is used by recruiters at 76% of the Fortune 500 companies
Similar Profiles to Andries De Villiers
Dan Kucherka

Controller & Partner - DTZ Nanaimo Real Estate Ltd.

Bradly Dahdaly

Marketing Graduate, Studying Business Technology Management

Heidi Rathjen

Cofondatrice et codirectrice, Coalition québécoise pour le contrôle du tabac

Bart Rzeszowski

Project Coordinator & Engineer In Training

Sahara Abu-Ulbeh

Regional Sales Manager at G Adventures

Adam Seif
Jack Distranski

OIL AND ENERGY PROFESSIONAL

Shaireen Abedin
Russ Fearon

President at Throat Threads Apparel Inc.

Adriana Vinczan

Business Development Manager at Vibrant Health Products

Robin Westie

President at Frontier Fire Protection Ltd

Barry Wiszniowski
Alex McAulay

Chief Financial Officer at Garmatex Technologies Inc.

Jade Burnside
Laurie Assaly
Rob Aukema
Shawn MacIntyre

CTO and Founder of Ratchet Health

Harry van Hemmen

Publisher, Boulevard Chinese magazine

Nadine Panetta, CHRP

Human Resources Manager,Talent Management at PVH

Alina He

Account IC & Team Leader at Brandtology

Kevin Chaplin
Angelica Ambrosini

Senior Director, Cosmetics Operational Performance & Customer Experience at Shoppers Drug Mart

Keith Cherrier

Account Executive at Webcom Inc

Jeff Froehlich

Hospitality Professional | Director of Sales & Marketing | Passionate about customer service | 20+ Years Experience

Irene Hargitt

UBC International Student Initiative Constituent Relationship Project Manager

Lynn Vermeulen

Project Assistant at Matrix Solutions, Inc.

Charlene Dunstan

Recruitment Consultant & Business Development at CD Coaching & Consulting

John Gocek

Vice President & CFO at XNRGY Climate Systems

Chris Benwell

Senior Vice President Sales, Americas at Instructure

Todd Gotham

Product Development Professional

Jeffrey Binder
Jung Kim

Head of Design for Next Billion User at Google

Dave Bisceglia

Executive Producer at WB Games

Dan McGill

Regional Sales Manager at Palo Alto Networks

Erik Reynolds

Brand + Comms Executive. Writer + Executive Producer (TV and Film). Tech, Esports, Gaming and Startup Communications.

Okan M.S.

Chief Executive Officer, Jaenovation Corporation

Mark Strong

Experienced Research, Development, and Quality Senior Executive

Ryan Bailey

CEO @ TravelNet Solutions 'TRACK & ResortsandLodges' [We're Hiring]

Albert Cui

Product Manager at LinkedIn

Tejas Maniar
Terry DTM

★ ★ ★ ★ ★ Experienced Keynote Speaker | Self Esteem Architect ✔Helping Professionals be exceptional Speakers ✔

Satya Nadella
Howard Levy

Vice President - Global Sourcing & Instruments at Zimmer Biomet

Jake Lee

Director (Principal Engineer), Machine Learning at Samsung Display America Lab

Christopher Wu

Machine Learning Engineer at Facebook

Mark Halberstein

Founder & CEO at SIMPLENIGHT

Abhay Kawale

Senior Software Engineer at comScore, Inc.

Yasmin W.
Looking for colleagues of Chris Shelby at Company Inc?