Andreea-Alexandra Iuga's Email & Phone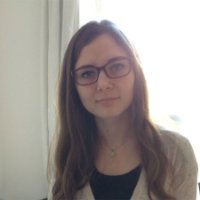 Andreea-Alexandra Iuga
Web Developer @ EFX Invest
Andreea-Alexandra Iuga Contact Details
Web Developer @ EFX Invest
Web developer @ Online Solutions Development
Senior Software Engineer @
RVU
Bachelor's degree @ Faculty of Computer Science, "Alexandru I. Cuza" University
Senior Software Engineer @ During my first 6 months I developed the client that consumed the API using PHP and JavaScript for a company called Comufy, based in London. In September 2014 they were acquired by king.com where I continued developing this system. From May 2014 to Present (1 year 8 months) Web Developer @ From August
ContactOut is used by
76% of Fortune 500 companies
Similar Profiles to Andreea-Alexandra Iuga
Pavan Mukthi

Software Engineering Manager at Aspera, an IBM company

Florence CFA

Assistant Vice President: US Strategy and Business Development

Brian Baker

Onshore Delivery Lead - Supply Chain Replenishment Services at Accenture

Lenley Hensarling

Chief Strategy Officer (CSO) at Aerospike, Inc.

Purvi Trivedi

Technical Sales Leader at IBM

Tonya Stopke

Area Vice President, Service Provider at World Wide Technology

Chris Correnti

Vice President / GM - Catering at Panera Bread

Kevin Brown

Sr. Financial Analyst at Morton Salt, Inc.

Soumya Sivakumar

Supply Chain & Logistics Professional

Delores Hively

Creative Recruiter/ Talent Acquisition

Kelly Ulmen

Regional Human Resources Manager at Menasha Packaging

Paul Craciunoiu

Consultant: Engineering + Business + Product.

Pilar Tirado

Accounts Payable Director at Direct Energy

Jessica Harrington

In the thick of it, managing integrated marketing campaigns that fill the funnel!

Anna Timasheva

Senior Program Manager at Microsoft

Adrianna Malinowski

Senior Project Manager at Baxter Healthcare

Paul Pulicken

National Product Manager - Analyzers and System Integration at SICK

Lee Garvey

Seeking to make the world a better place for small businesses while doing for others what I hope they would do for me.

Pranay Butala

Vice President, Strategy & Operations Transformation

Julie Gadfield

Physician Recruiter at OhioHealth

Patrick Yantz

Vice President - Data Center Solutions at CommScope

Michelle Dommer

Global Business Developement at Clarisonic

Maggie Hall

President, MAGS International, Inc.

Mark MD

Healthcare Synergist/Medical Messaging Maven/Speaker/Author/@drmtager

Nate David

Associate Brand Manager at Prestige Brands

John Gaydos

V.P. Federal Systems Division at Tyco Integrated Security

Cleo Costello

Chief Of Staff at Synopsys Inc

Peggy Kirkland

Pharmacy Director at Coffee Regional Medical Center

Greg Unis

Strategic Account Manager at Micro Focus

David Kean

Chief Financial Officer at Positronic Industries

Gary Lang

Head Of Supply Chain at Lactalis McLelland Ltd

Megan Folsom
Robert Geva

Compiler writer at Amazon Web Services (AWS)

Patrick Horner

Sourcing Manager - External Manufacturing at The Dow Chemical Company

Chip Stewart

Senior Software Engineer at Conduent

Jeff Cuban

COO Mark Cuban Companies Entertainment Properties

Robert Dunn

Sr. Client Account Executive

Rupesh P.
Yenlung Lai
Michael Davis

Software Development Engineer II at Amazon Web Services

Mario Miu

Senior Sales Engineer at Oracle

Linda Viera

Director of Software Engineering at RAB Lighting

Flavia Iorga

Regional Sales Director, Software at NetSuite

Abram Kanzer

Senior Account Executive - General Commercial at Salesforce

J-kai Hsu

Software Engineer at Square

Ann Rubin

VP, Corporate Marketing, IBM

Alan Jennat
Rajiv Dudhia

Senior Software Engineer/Vice President at Goldman Sachs & Co.

Emelie Widegren

Application Security Engineer @ Klarna

Nisarg Gandhi

Senior Electrical Engineer at Hologic, Inc.
Looking for colleagues of Chris Shelby at Company Inc?