Michael Johnson's Email & Phone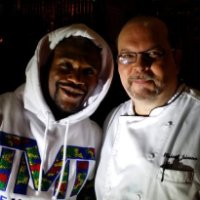 Michael Johnson
EXECUTIVE ROOM CHEF - F&B ADMIN @ MGM Resorts International
Michael Johnson Contact Details
EXECUTIVE ROOM CHEF - F&B ADMIN @ MGM Resorts International
Assistant Chef Room service and Sky Lofts @ MGM Grand Hotel & Casino Las Vegas
Chef DE Cuisine for Smith's Food and Drug @ Smith's Food & Drug Centers
I feel that my skills would be an asset in any role. I have the ability to recognize customer's needs, evaluate and execute work orders to achieve customer satisfaction in a timely and affordable manner. I maintain a good line of communication with other employees and customers. My abilities include great customer service skills, computer knowledge including
ContactOut is used by recruiters at 30% of the Fortune 500 companies
Similar Profiles to Michael Johnson
Nico Sala
Brian Trzupek

Vice President Emerging Markets at DigiCert, Inc.

Stephanie Galvin

Hotel Executive Recruiter, Resume & Interview Consultant, Job Placement Specialist (404) 873-2000

Amy Sword

Senior Advisory Manager at Deloitte & Touche

Robert P.E.

President, Chief Executive Officer at Shield Engineering, Inc.

Jason Fragapane
Thomas Crabtree

Sr. Vice President North America Sales at The Scotts Miracle-Gro Company

Curtis Malone

HR Manager at Electronic Arts (EA)

Daniel Zamudio

Sales Enablement Consultant, CEO, and Author

Adrienne Stephen

Senior Account & Project Manager at IdeaWork Studios Inc

Andrew Riffee

Chief Marketing Technology Officer at Dimmitt Automotive Group

William Iles

Data Center Manager at Digital Realty

Ryan Coskren

Assisting organizations to build an engaged workforce.

Greg Cittadini

Director of Customer Success at Clinicient

Nan (Calvin) Ma

Morgan Stanley IBD Summer Associate, NYU Stern MBA Candidate

Scott Lareau
Eliza Gombert

VP Strategy and Operations at BUHO

Ana Claudia Walsh

Talent Acquisition at L'Oreal AMERICAS

Matt Causey

Vice President, Finance at San Francisco Giants

Cesar Diaz

Public Policy Manager at Lyft

Michele Sancricca, MBA

International Maritime Expert - Corporate Manager - Lieutenant Commander (Navy - Retired)

Steve Robinson

Vice President, Head of U.S. Partnerships at Legal & General America

Stephanie Romero

Recruiting & Human Resources

Jim Gibson

Director of Marketing at Seminole Casino Immokalee

Christopher Wysong

President of Hemco Gage & VP of Plasma-Tec

Hugh Jr.

Sales Director at Snowflake

Terry DTM

★ ★ ★ ★ ★ Experienced Keynote Speaker | Self Esteem Architect ✔Helping Professionals be exceptional Speakers ✔

Yayati Kasralikar

Principal Engineer at Yahoo

Amitabha Ph.D.

Vice President, Process Development and Manufacturing, Cell and Gene Therapy

Ryan Lin
Bryan Chen

Staff Software Engineer at Google

Arjun Raja

Senior Software Engineer with 10+ years of experience in plethora of technologies involving the cloud.

Keith C.P.A.

Controller, Corporate Finance at Waters Corporation

Rahel Beyene

Team Lead /Senior Software at PPC

Cliff Kao

Software Engineer at Citadel LLC

Harendra Rawat

Sr. Principal Software Engineer at Splunk

Jeremy Neander
Hwee Lim

Medical Director & Consultant Oncologist at Novena Cancer Centre

Daniel Kessler
George Gilbert

Manager of SEC Reporting at Platform Specialty Products Corporation

Andrew Wason

Software Engineer at Cureatr

Jason Satran

Data Engineer at Roivant Sciences

Sandesh Patnam
Charles Cahoon
Liangtao G.

Principal Engineer at Faraday Future

Yasmin W.
Looking for colleagues of Chris Shelby at Company Inc?