Jonathan Stasiak's Email & Phone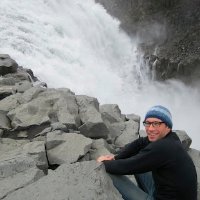 Jonathan Stasiak
Senior Software Engineer @ Uber
Jonathan Stasiak Contact Details
San Francisco, California, United States
Senior Software Engineer @ Uber
SRE @ CoudFlare
Sr Staff Engineer @ Samsung Research America
Computer Science, BA Music Performance (classical Trombone), minor Philosophy @ Indiana University Bloomington
A full-stack / infrastructure engineer with experience designing and maintaining highly-available service- oriented architectures; build, ingestion, testing pipelines and 24x7 consumer-facing internet products. I generally live to craft tools, make colleagues more productive and automate everything.
SRE @ From June 2014 to Present (1 year 7 months) Sr Staff Engineer @ From November 2012 to May 2014 (1
ContactOut is used by recruiters at 30% of the Fortune 500 companies
Similar Profiles to Jonathan Stasiak
Enrique Duval

Graduate of the School of Business at SUNY New Paltz

Inder Tallur

Managing Director at BelHealth Investment Partners

Lane Watts

Software Engineer currently searching for my next employer

Nora Marvilli
Giorgio Migliaccio
Abbas Bazzi

PhD Student at Ecole Polytechnique Fédérale de Lausanne

Gilbert Guinikoukou

Senior Auditor chez Philip Morris International

Daniëlle Hoof

1st of Jan open for a new role

Minh Do

BI Technical Lead - Epic Clarity ETL Admin, Epic Cogito Admin/Developer, Epic Clarity Report Developer, SAP BOE Admin

Bill Birt Jr.

Resiliency Operations Superintendent

Mythily Selvaraj

Software Engineer at TrustCommerce

Judy CPP

Payroll Manager at Actian Corp (Previously Pervasive Software)

Crystal Reh

Purchasing Manager at Chatham Steel

Ed Kocur

Vice President - IT Infrastructure at Tokio Marine North America Services

Brittany Gabriel

Human Resources Generalist at Brose Group

Rajiv Moudgil

Alone you go fast, together you go far.

Jessica Harrell

Software Engineer for Pillar Technology

nick mcclure

VP Business Development at McClure Oil Company, Inc.

Lance Schmidt

Director of Facilities Maintenance at Love's Travel Stops and Country Stores

Christine Rutherford

Marketing Geek: championing the cause of non-profits that support education & at-risk youth

Paul Pancoe

Financial Analyst at Nashville Predators

Henry Bartholomew

Tooling Engineer/Plastic Injection Moldmaker at II Stanley

Erik Halliday

MGA at Altig - American Income Life Insurance Company

Enea Gjoka
Dustin House

Superintendent at Turner Construction

Kevin McLaughlin

Cost Accountant at Acumed

Seth Jenkins

IT Manager - Unix, iSeries, and Storage at Ascena Retail Group, Inc.

Craig McKinney

Purchasing Manager at Sunbelt Spas

Robert Zambon

Senior Director, Strategy & Innovation at The Janssen Pharmaceutical Companies of Johnson & Johnson

Michael Perles

Planning Intern at WXY Studio

Ross Porter

Chief Financial Officer at Apex Tool Group, LLC

Joe Kotch

Sr Director of Global Talent Acquisition at Teradata

Michael Anselmo

Chief Information Officer, Information Security Officer and Customer at FIMC (RealBenefits.com)

Kaitlin Hart

Using Data to ask better questions | Teamwork makes the dream work | Enterprise Sales

Richard Venture

Corporate Venture & Innovation | Blockchain | Family Office Advisor | Impact Investor | Infrastructure & Development

Promeet Mansata

Product guy building products that delight

Jessica Lin

Co-Founder & General Partner at Work-Bench

Ruchit Garg

Unlocking the Global Smallholder Farmer Value Chain

Cassie Guba

Director of Talent Acquisition @ Vital Proteins

Suneet Shah

Product Manager, Level 5, Autonomous Vehicle Division at Lyft

Michelle Kilimonis

Sr. Director Human Resources at Cytonome

Juliet Mariniello

Enterprise Customer Success Manager at App Annie

Natalie Osterling

Audience Development & Digital Strategy

Geoff Brooks

Business Operations & Strategy @ Coinbase

Gala Kressmann

Director, Global Digital Marketing

Todd Henrich

SVP, Head of Corporate Development at Booking Holdings

Jeff BCC

Grateful to lead the BEST GLOBAL HR TEAM IN DIRECT SALES!!

Nick Adams

Managing Partner and co-founder at Differential Ventures

R.J. Sheedy

Chief Merchandise, Marketing & Strategy Officer and EVP at Grocery Outlet
Looking for colleagues of Chris Shelby at Company Inc?