Benni Russell's Email & Phone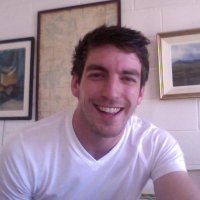 Benni Russell
UI Developer @ Web Summit
Benni Russell Contact Details
Front End Developer @ Dara Creative
UX Designer | UI Developer @ CoCreate
Certificate of Completion, Effective Webdesign @ Mad Art Studios
I am highly creative and passionate about design and meticulous in my approach using up-to-the-minute web technologies ♦ 4 years BA Design & Visual Communications, DIT ♦ 5+ years Front End Developer HTML/CSS3/SCSS JavaScript/jQuery Photoshop & Illustrator Version Control - Git Working with Agile/SCRUM Methodologies Popular Frameworks (Bootstrap, HTML5 Boilerplate) Cross-Browser / Cross-Platform Development CMS (WordPress, Drupal)
UI
ContactOut is used by
76% of Fortune 500 companies
Similar Profiles to Benni Russell
H.E. ALTUWAIJRY

CHAIRMAN OF THE BOARD Of SAUDI INVESTMENT GROUP

Alexander Siffrin

Founder and CEO at Key-Systems GmbH, COO at CentralNic plc

Talia SHRM-SCP

People Enthusiast | Dogs | HR Nerd | Cigars | Advocate for Great Ideas | Lover of Parties with a Theme | Scotch

Antoine Delaruelle

SEO & Operational Marketing Manager chez fioulmarket.fr

Keeton Hayes

Sr. SEO Strategist at Bluebird Botanicals

Glen Debenham

Lead E-Commerce Trading Manager at Tesco Mobile

Chris Reed

eCommerce and Digital Marketing Professional

Troy Curry
Anuradha Kale

Senior Java Developer at GreenSky®

Bailey Cook

Sales Development Representative - Outbound at Sage Intacct, Inc.

Justin McDaniel

Game Developer (Unreal Engine 4)

Brad Ph.D.

Team-centric leader in network software solutions

Alexandre Guerard

Software Engineer at Riot Games

Beth Wendt

Software Developer at Safariland

Leonardo Moraes

Sócio e Chief Investment Officer na Turim Family Office

Melanie Ph.D.

Grantham, Mayo, Van Otterloo & Co. LLC

Jacob Bogdanov

Software Engineer at 128 Technology

Surein Edwards

Global Sales Manager at Scrapinghub

Christina Swanwick

Sales Executive at Akamai Technologies

Michael Lemley

Lead Android Engineer at Coin Ninja LLC

Andrea Larson

Senior Manager, Product Strategy at Incyte Corporation

Binod lama

Cloud AWS/Docker engineer at Lincoln Financial Group

David Singyee

Media Analyst at Smashtech

Marinela Tudoran

Managing Director at Credit Suisse

Andrew Whitenack

Coordinator, Paid Search at Elite SEM

Gina Rivera

Operations and Processes Professional

Mark Evans

CMO and Head of Product Strategy

Radnall Ferguson

You can customize this invitation

Grant Church

Executive Vice President, Strategic Purchasing/Supply Chain

Andrea Sayago

Managing Director and Chief Compliance Officer at Cowen Investment Management LLC

Monique Cruz

Engineering Leadership Recruiter at Facebook

Larry Salvatoriello

Founder & President at Arkus

Ramesh Nikam

Sr. Software Specialist at Gap Inc.

John McGlinn

Application Developer at The Glenmede Trust Company, N.A.

Tom Hamilton
Darrel Herbst

Exploring new technology at WB Digital Labs

Ian Klein

Global Director, Digital Marketing & Demand Generation at Akamai Technologies

Loan Lam

VP, Software Engineering at Express Scripts

Arpana Tiwari

User Growth (Business Operations)

Jon Tang
Raj CISSP

Senior Cloud Enterprise Architect at Okta - Always On

Sameer Bhatia

Technologist - InterNetwork of Human Beings (IoH)

O. LeRoy Cluff

Award Winning Sales Executive

Philine Huizing

Business Analyst at McKinsey & Company

Daniel Miller

Corporate Development at Charles Schwab

Richard Powers

COO, Co-founder at Strados Labs | Remote Patient Mgmt | IoT | Connected Med Devices | Machine Learning | Digital Health

Azul Couzens

Vice President Of Marketing And Business Development at Helinox

Arti ITIL

Director, Southwest Region, Avanade

Mark Mansour

Senior Manager, Software Development at AWS

Rob Walikis

Ideas. Product. Launch. Repeat.