Andrey Zakusov's Email & Phone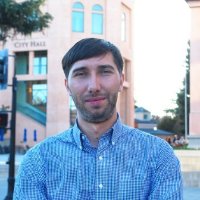 Andrey Zakusov
Software QA Engineer @ OneRoof Energy, Inc.
Andrey Zakusov Contact Details
ContactOut is used by
76% of Fortune 500 companies
Similar Profiles to Andrey Zakusov
Alpesh A.

Investment Partner at Atlantic Bridge Capital

Ricardo Piccolo

Director Sales & Solutions Engineering at NetApp Inc. Latin America Region

Kayla Cook

Sr. Events & Sponsorships Manager at Leafly

Derek White

President & CEO at Fusion Targets

David Frechette

Managing Director, Head of Leveraged Finance Product Strategy at BlackRock

Chris LoPilato, CPA

CPA, CFO- Hospitality, Restaurants

Dave Peet

Executive VP at Definitive Technology

Sandra Tise

VP Global Business Development at Glance Networks

Jennifer Mccoy

Portfolio Sr Manager - Infrastructure Engineering, The Home Depot

Ian McGillivray

Senior Graphic Designer at Cake Group

Date Noorlag

 Distinguished Engineer (DEST)

Richard Dubrow

Marketing Director at Macklowe Properties

Hernan Tocuyo

Director IT Operations & Applications / IT Security Officer at M3 Insurance (MBA/PMP/IT Executive Leader)

Rachael (Honeycutt) Levy, SHRM-CP

Human Resources at Stanley Black & Decker, Inc.

Andy Didorosi

Alright Guy at The Detroit Bus Company

Elissa M. Wilke

Manager, Research & Analytics at MMI Agency

Devon Healy

Research Analyst, Ipsos Healthcare

Scott CPWA®

Matching good people like you with professionals and solutions which minimize your concerns and elevate your confidence

Natalya Alexei

Managing Director at Abbot Downing, A Wells Fargo Business

Cassandra Castillo

Recruitment Coordinator at Uncommon Schools

Chandra Ravipati

Vice President of Engineering at BETSOL

Kit Legg, P.E.

Director of Energy Services at Legacy Mechanical & Energy Services, Inc.

Marijo Montgomery

Vice President, Sponsorship Sales at CheckedUp

Kelly Sperl

Founder: Motive28, TheLUXURIAN.com | New Business Development, Brand Executive: IBM, 3M, Food&Wine, The Sharper Image

David Lozzi

Solution Architect, Portals and Collaboration at Slalom

Johnson Pau

Data Scientist at HelioCampus

Terry DTM

★ ★ ★ ★ ★ Experienced Keynote Speaker | Self Esteem Architect ✔Helping Professionals be exceptional Speakers ✔

Jeroen van der Meer

Applicatie architect, Senior .Net Developer at de Rechtspraak

Mauro Palsgraaf

Junior Software Engineer bij Avisi

Abbe Luersman
Delano Neeleman

4e jaars student bij Avans Hogeschool Breda

Remco Mokveld

Android Developer at BAMTECH Media

Jeroen van Veghel

Junior Software Developer at dWise Applicaties

Ahmet Taspinar

Data Scientist at Fokker Services B.V.

Ning Jin

General Counsel and Head of Legal Department

David Thomas

Head of Human Resources Asia Pacific and Group General Manager, HSBC at HSBC

Raymond Lam

Application System Engineer at Trela Intelligence

Joe Lapierre

Digital CEO | Innovation | Creating Digital Ecosystems | FinTech | InsurTech

Carolyn Tsang

Investment Banking at Credit Suisse

Eric Ho
Charles Hung
Haili Wang
Nicole Ma

Digital Marketing Manager at NIRAV MODI

Tariq Dennison

US & HK Retirement Plan Investment Advisor

Eva Leung

Senior Art Director at Razorfish

Yasmin W.