Douglas Darrigo's Email & Phone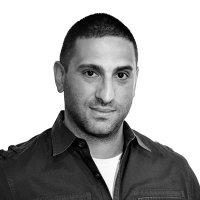 Douglas Darrigo
VP, Creative Director @ MRM McCann
Douglas Darrigo Contact Details
Greater New York City Area
Recent Freelance Clients @ DougDarrigo.com
I'm a digitally-focused Creative Director specializing in the holistic and connected customer experience. I work across every touch point of a user journey adding value and response-driven ideas from awareness to advocacy across all channels. I believe that great creative is developed in that sweet spot between the data set and the mind set, and balance intuition
ContactOut is used by
76% of Fortune 500 companies
Similar Profiles to Douglas Darrigo
Anthony Teasdale
David Bower

Entertainment Relations Professional at Gibson Guitar

Philip Ivinson

Employment Law Solicitor providing HR advice and Tribunal Representation. Owner of Chiltern Solicitors, Luton

Lucio Ratta

Risk and audit professional | Executive coach

John Manock

Railway Signalling and Telecommunications Engineer at SQT Rail Limited

Martin Willock

Insolvency Advisor - Cowgill Holloway LLP

Andrew Shellard
Emma Scamell
Victoria Mortimer

Marketing Planning Manager at Charles Tyrwhitt

Amanda Handley

Wedding Coordinator at Wotton House Hotel IHG®

Stephanie Collier

Global Client Relationship Director, Professional Services & Technology at Financial Times

Bambos Hambi

Head of Fund of Funds at Standard Life Investments

Tracey Wiles
Nick Plumb

Managing Director at Touratech UK & Outdoor Welsh Events

Rory Black
Mark Woodall

Employment Manager at BID Services

Gillian Cribbs

Leadership Development, Executive Coach and Advisory

Terri Mangaroo

Marketing Business Partner at Williams Lea

Tom Stenner

Senior Account Manager at RPM Ltd

Meg Fisher

Practice Director - Infrastructure & Private Cloud

Alexandra Winten

Senior Marketing Analyst at Dafigo

Matt Ingham
Markus Naegeli

Managing Director / CEO at Canon Schweiz AG

Kevin Gwilliam

General Manager at FI Real Estate Management Ltd

Matthew Sadd

Managing Director - structuring at Unicredit London

Mert Can Demir

Senior Software Engineer (Contract)

Tony Cousins

Management Development Consultant at Carphone Warehouse PLC

Irfan Abdali

Investment Performance & Risk - Available immediately

Jakob Gudbrand

President & CEO at GN Hearing A/S

John Burnham

Senior Account Executive at SAP

Ben Macey
John Spieth

Senior Account Executive @ Vlocity

Richard Broglie

Chief Technology Officer at Pivot Bio

Hamilton Yang

Senior Product Manager at CrowdStrike

Antonio Jones

Product Executive, IT/Engineering Executive, Chief Architect, Customer Experience, Healthcare Payer/Provider, and Retail

Kris Skrinak

Global Machine Learning Segment Lead

Jeff Hood

Executive Vice President, Human Resources at Citizens Financial Group

Stuart Ransom

Vice President, Global Account Management at Acquia

Catherine Johnson

Data geek, architect, developer, and strategist. All kinds, all the time.

Rebecca Cha

Account Executive at Cohn & Wolfe

Dan Daum

Head of Sales, Americas at Charles River Development

Joe Anstine
Carl Youngblood

CTO at Mainframe, Blockchain Speaker and Advisor

Michael Walsh

Vice President, Field Marketing at IBS Software

Osama Musa

Senior Vice President and Chief Technology Officer at Ashland Global Holdings

Terry DTM

★ ★ ★ ★ ★ Experienced Keynote Speaker | Self Esteem Architect ✔Helping Professionals be exceptional Speakers ✔

Satya Nadella
Yasmin W.