TJ Johnson's Email & Phone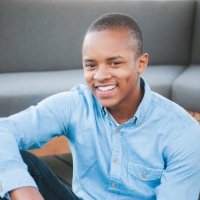 TJ Johnson
Recruiting Coordinator (Contractor) @ Apartment List
TJ Johnson Contact Details
Bachelor of Arts (B.A.) in Advertising with emphasis in Business Administration @ Fudan University
I am a creative, outgoing, visionary who enjoys the process of collaborating with unique minds to accomplish a mutual goal.
President @ College Bounty's platform empowers brands with the staggering capabilities of Active Engagement – a mobile call-to-action resulting in the most intimate brand driven research experience most consumers have ever participated in. From February 2014 to Present
ContactOut is used by
76% of Fortune 500 companies
Similar Profiles to TJ Johnson
Ryan Helon

Investments at Rev1 Ventures

Greg Artkop

Experienced PR Executive actively seeking next opportunity

Matt Restaino

Associate Director - OTC Sales & Marketing at BIONPHARMA, INC.

Charuta Agashe

Senior Associate Researcher at Icahn School of Medicine at Mount Sinai

Kaveh Paul Kazemi

Operations Associate at First Eagle Investment Management, LLC

Paul Darno

Vice President, Financial Services at Sanofi

John Baguley

Chief Operating Officer - Magnolia LNG, Ltd.

Louise Galea

Controller at Amphenol Sine Systems

Qi Zhao

Senior Research Scientist at 84.51˚

Bindu Mahadev
Salina Truong

Business Development & Partnerships at Intuit / Co-Founder at Playbook HR

Zhong Peng

Director of Formulation at Saluspharma

Zakir Hussain

purchase at Baniyas Building Materials Company

Miguel Durand

Sr. Manager Real Estate Development at Burger King Corporation

Tony M.S.

Application Release Automation Analyst at Costco Wholesale

Umesh Vichare

Tech Lead at A Major Financial Institution

Rajeshkumar Kanike

Siebel CRM Solution Architect

Sudharshan Pollapally
Hanting Wang

Civil Engineer at Greeley and Hansen

Tomi Eronen

Head of Information Management and Analytics at DNA Oy

Gurnam Bedi
Pranjali Dani

Sr Virtualization Architect - Looking for jobs in Bay area

Reginald MCITP

Senior Linux Engineer At Manheim Auctions.

Ram Singh
Blane Parry

Software Developer at Cognex Corporation

Jaye Lapachet

Content Manager and Info Pro focused on encouraging positive decision making when information organization matters .

Paul M.B.A.

President at Christopher Glass & Aluminum

Simha Kaipa

Engineering Leader at Citrix

Jeremy Pomerantz

Vice President Business Development at Nationwide Title Clearing, Inc.

Natalie SHRM-CP

Human Resources Generalist at DBI Beverage

Beth Reyes

Director, Sr. HR Business Partner at Thales InFlyt Experience

Paul Araujo

Thycotic Channel Account Manager at Alpha Generation Distribution Ltd

Yufeng Wen

Senior Model Developer at Freddie Mac

Vishwas Ganu

Director at Regulatory Affairs- CMC, Valeant Pharmaceuticals

Megan Balaisius

Associate Director Project Leadership at Celgene

Evelyn Dennison

Director of Addiction Psychiatry at Binnacle Psychiatry

Shraddha PMP

Group Human Resources Manager at Gulf Marine Services W.L.L

Shane Simpson

CEO at Rapid Wick Distribution

Terry DTM

★ ★ ★ ★ ★ Experienced Keynote Speaker | Self Esteem Architect ✔Helping Professionals be exceptional Speakers ✔

Andrew Hoh

Product Manager for Machine Learning Infrastructure

Yaniv Gilad

VP Product at Button, Inc.

Colleen Fitzgerald

VP, Partner Marketing at Pandora

Rongqi Qiu

Software Engineer at Google

Rej Pathania

Client Partner- Strategic Engagements

Sam Roddick

Head of Deloitte Digital EMEA

Patrick Herning

CEO & Founder at 11 Honoré

Nic Jackson

Vice President, Marketing and Communications at Intelsat

John Kernen

Director, Global Procurement - Global Contract Manufacturing at Pfizer

Yasmin W.
Looking for colleagues of Chris Shelby at Company Inc?