Sunil Srivatsa's Email & Phone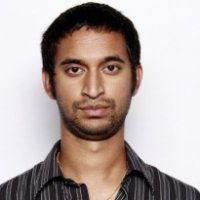 Sunil Srivatsa
Software Engineer @ Square
Sunil Srivatsa Contact Details
Saratoga, California, United States
I like startups and cool technology. http://sunilsrivatsa.com/ Specialties I can teleport when no one is looking.
Software Engineer @ • Data engineering / real-time data infrastructure From November 2015 to Present (2 months) San Francisco Bay AreaSoftware Engineer @ • Backend systems, data infrastructure, and internal tools From October 2014 to November 2015 (1 year 2 months) San
ContactOut is used by
76% of Fortune 500 companies
Similar Profiles to Sunil Srivatsa
John Ballarin V

Achievements in the area of sales, vendor performance mgt, and supply chain

Nicole Baugh, PHR

Human Resources Manager | HR Business Partner | HR Generalist

Gustavo Kafruni

Head of Digital Services at Telefónica

Tash Perrin

SVP, Chairman's Office, Trusts, Estates & Wealth Management Services at Christie's

Amber Reddick

Vice President at Horizon Italian Tile

Lizzy (Blum) Vollmer

Experienced Hire Recruiter Deloitte Consulting

Pankaj Kulshrestha, M.D.

Director, Cardiothoracic Surgery, Havasu Regional Medical Center

Nina Barlow

Nina's Hospitality & Associates

Allison Parsons

Executive Search Professional

Kate O'Brien

Associate Market Manager at Expedia, Inc.

Josie Paruta

Director, Employee Learning and Development at ESPN

Pamela Blackwell

PMP, Prosci Certified Change Management Practitioner

Ali Murat Sener
Eli Frei

Lead Designer & Creative Director at ELI FREI LLC

GE VanDeMortel

Experienced Pricing/Finance Professional

Cathy Hays

Senior Vice President, Specializing in Results-Oriented Employee Benefits Consulting

Marilyn A. Schaefer
Jessica Rivera

Executive Client Manager at WorldPay

Massimo Chisessi

Director of Marketing at San Jose Jazz

Becky Bennett

Director of Development at Pasco Kids First Inc

Billy Burke

Associate at Eastdil Secured

Tony ACP
Shannon VanSickler

Vice President - Credit Union Channel at United Guaranty Corporation

Alicia Kuhlmann

Lead Recruiter at Blue Cross and Blue Shield

Dean Kashiwagi

PhD, P.E., IFMA Fellow, Fulbright Scholar

Mark McKain

Commercial Manager at Bechtel Corporation

Geni Gomez

Director, BI and Compliance Reporting at Ocwen Financial Corporation - US

Anita Roth

Airbnb Head of Policy Data Science

Lonnie Salyer, MBA

Procurement Manager, Energy

Kimberly Chavers

Securities Attorney at Eccleston Law, LLC

Terry DTM

★ ★ ★ ★ ★ Experienced Keynote Speaker | Self Esteem Architect ✔Helping Professionals be exceptional Speakers ✔

Satya Nadella
Hartnell Foster

Senior DevOps/Systems Engineer

Andrew FIET

Vice President, Quality Assurance & Build Reliability at SpaceX

Jennifer Skeen

VP, Omnichannel & Marketing at Sun & Ski

Théo Négri

Senior Software Engineer at One Medical

Stephane SOULAINE

Responsable de l'Innovation Marketing et des Marchés

Jeremy S.

Quantitative Researcher at Two Sigma (Garden Leave)

Ari Shpanya

Looking for the next big thing | Entrepreneur at heart

Michelle Wohl

Executive Vice President of Marketing at Quoori Inc.

Bharath Honnegowda

Senior Software Engineer at SoFi

Josef Blake

Staff Engineer at Spotify

Yi Hu

AWS Big Data Consultant ● I architect, implement and maintain end-to-end data processing solutions

Jeff Perry

Vice President of Revenue, Private Markets at Carta

Sudip K.

Principal Software Engineer / Architect / Global Technical Lead (CSM)

Andrew Politza
Linda Goodspeed

Driving employee growth for innovative and successful start-ups in the software and biotech industries

Varun Dodla

Chief Architect at Slync.io

Jesse Carter

Data Engineer at Hinge Health

Yasmin W.
Looking for colleagues of Chris Shelby at Company Inc?