Stefano Pressato's Email & Phone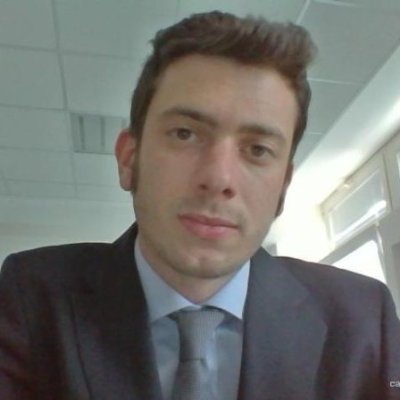 Stefano Pressato
Area Manager @ Amazon
Stefano Pressato Contact Details
Area Manager @ Amazon
Analyst @ Deloitte Italia
Cooperation scholarship @ University of Rome "La Sapienza"
Bachelor's degree, Engineering/Industrial Management, 107 out of 110 @ Università degli Studi di Roma 'La Sapienza'
Area Manager @ From September 2015 to Present (2 months) Piacenza Area, ItalyAnalyst @ From March 2014 to Present (1 year 8 months) Rome Area, ItalyCooperation scholarship @ Relations with students and university documents revision. From February 2013 to September 2013 (8 months) Rome Area, Italy
Master's degree, Engineering/Industrial Management, 110 out of 110 @ Sapienza Università di
ContactOut is used by recruiters at 76% of the Fortune 500 companies
Similar Profiles to Stefano Pressato
Loretta Estrada

HR Director, Kelly Pipe Co LLC

James Marion

Co-Owner at JCM Electronics Inc.

Shivam Singh

Project Manager at Ingenuity Gaming

Doug Carlson

Vice President, Commercial Operations at Collegium Pharmaceutical, Inc.

Kathy Yang

Technical Program Manager - Hardware/System Development Manager

Rodney Ding

Software Engineer at Thalmic Labs

Richard Samwell

Managing Director at TI Security & Absolute Access

Saree CFA
Ben Chien

Managing Director, Greater China at AnyMind Group Founder & Director at Acqua Media

Lendl Li

APAC IT Telecoms Project Manager at BNP Paribas

Chris Fields

Head of Digital Security at AIA

Stas Stassinevitch

Tax Senior Manager. Financial Services Industry at Deloitte Tax LLP

Delon White
Stella Atela

Innovative HR Leader I People, Teams and Organizational Development & Effectiveness Expert I

Richard Springman

Manager of Engineering at Electric Boat

Paulina Libiszewska
Abhishek Gupta

Fintech | Investments | HBS Alum

Richard Monforti

Director, Information Technology

Maris M.

Co-Founder at Blue Media Consulting

Bianca Monaco

Product Manager at Qualified.io

David Snell

Retired - stay at home philosopher

Joseph Thomas

Chair Elect - Florida Section of the American College of Dentists

Daisuke Matsuoka

LNG Trader at PTT International Trading Pte Ltd (Singapore)

Daniel Ryken
Randall Halcomb

Sr Vice President, Chemistry and Early Development, Terns Pharmaceuticals

Jason Liu

Managing Principal at AmCap Inc.

Michael Lai

Investment Analyst at NY-Based Multi-Strategy Hedge Fund

Duncan Waddell

Managing Director at FM Intelligence Pty Ltd

Mark Hannigan

Industrial Investment Specialist & Digital Disruptor

Takahiro Okada

Lead Engineer at BCG Digital Ventures

Sasan Bahadaran

Senior Data Integration Specialist at Take2 Consulting, LLC

Michael Gibson

Chief Revenue Officer at NetDocuments

James Veraldi

Go Irish. Save the Elephants. All dogs go to heaven. We're all immigrants.

David Duvall

Chief Marketing, Communications & Experience Officer at Henry Ford Health System

Amruta Kajrekar

Software Engineer at Current, powered by GE

Malaikannan Sankarasubbu

Vice President, AI Research @Saama Technologies

Ryan Taylor

VP of Engineering at SkySlope

Rob Orgel

President and Chief Operating Officer at Flywire

P. Rudra

Lead Engineer and Software Architect

Sasha Tooryani

Devops Engineer at WeWork

Kamil Albrycht

Senior React Developer at Save Water Save Money

Alexis Kyriakou

VP, Head of Global Compensation & Mobility at Takeda

David Andersen

Senior Software Engineer at Bloomberg

Jackson Chung

Director of Engineering, SRE at Salesforce

Eyal Matzkel

Principal Engineering Manager, Data Scientist, Engineer with background in industrial design.

Nikki Shannon

Vice President Clinical Operations at NeuroBo Pharmaceutical

Adam J.

Site Reliability Engineer at iHeartRadio

Vikas Sindhwani

Machine Intelligence Researcher at Google

Luke Ye

Software Engineer at Facebook

Allan Gonsalves

Practice Lead at Confidential
Looking for colleagues of Chris Shelby at Company Inc?