Sam Gilbert's Email & Phone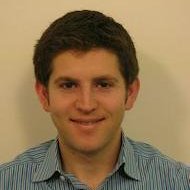 Sam Gilbert
Compensation Analyst @ Google
Sam Gilbert Contact Details
San Francisco, California
Compensation Analyst @ Google
Analyst @ Towers Watson
Specialties: Specialize in global broad based and tech/sales compensation with extensive experience working with Latin America and Asia compensation topics.
Compensation Analyst @ Specialization in sales compensation, broad-based compensation, and LatAm compensation From March 2011 to Present (4 years 10 months) Analyst @ Compensation analyst specializing Rewards/Broad-based, Sales, and Executive Compensation From August 2009 to February 2011 (1
ContactOut is used by recruiters at 30% of the Fortune 500 companies
Similar Profiles to Sam Gilbert
Anshuman Purohit
Jasen Lew

CEO at Glowing.io - Helping luxury, resort and gaming properties deliver personal guest experiences in-the-moment

Stefan Claypool

Sr. Product Manager, P2P at PayPal

Brandy Lee, MSHR, SPHR, SHRM-SCP

Director of Firm Operations

Lindsey Fulton
Derek Dai
Cameron Funk

Director Business Development at ABM Industries

Benjamin Webb

Executive Director, Office of Policy and Planning at U.S. Customs and Border Protection

Sharon Pearce

Vice President, Policy at National Hospice and Palliative Care Organization

Diane Sparks

Senior Recruiter at NORC at the University of Chicago

Tom Kerr

Embedded Software Development Manager

Buddy Dearborn

CEO at Accu-Line Wireline Services, LLC

Gary Bettan

Broadfield Distributing & Videoguys.com

Kristy Dunchak

Senior Director of Solutions Marketing, Physical Access Control | Dynamic leader creating and driving strategy

Loys Martin

Executive Director, International Business Development at The Estée Lauder Companies Inc.

Doug Davis

Director of Airworthiness, Northrop Grumman

Mark Smeadala
Jason Wright

President/COO at FlashBanc, LLC

Lawrence Manning

Executive Director at J.P. Morgan

Chelsey Bode

Pearson-Kelly Office Products

Martin Yang

Equity Research Associate

Sheri McLaughlin

Media Sales & Brand Partnerships

Henry Oh

Founder & CEO at FamePick

Kaitlin Guarascio Cooke

Senior Manager of Public Policy & Advocacy, ASCP

Michael Shaw

Senior Account Manager, Account Executive

Cliff Odum

Sr. Superintendent at Choate Construction Company

Eunyun Park

Joyfully growing self, people & organizations

Tina Mirfarsi

Vice President Operations at US Auto Parts

Steve Hendry

Media and Entertainment Finance | Film | Television | Digital Media

Ana DeLeon

Onboarding, Chief of Staff - IT Strategic Services

Terry DTM

★ ★ ★ ★ ★ Experienced Keynote Speaker | Self Esteem Architect ✔Helping Professionals be exceptional Speakers ✔

Steve Polski

Managing Director at Linn Grove Growth Funds

Lukas Agrapidis
Emily Yang

Technical Program Manager at Amazon

Matthieu Louis
Patrick Nixon

Software Engineer at Twitter

Patrick Li

Software Engineer at Apple

Timothy Kolbus

Chief Supply Chain Officer

Cindy Chebultz

Director of Marketing: Marketing Strategy, Project Management, Lead Generation, ROI, Analytics, PPC, SEO

Geoffrey Lalonde
Christopher Primavera

Senior Software Engineer at Aspen Square Management

Carlos Gonçalves

Global Chief Information Officer chez Société Générale

Emre Sefer

Vice President, Strategist/Quant at Goldman Sachs

Harris(Hongying) Yu

Sr. Software Engineer at Microsoft

Ben Cai

Empowering automation so you don't have to do the work... :)

Jit FFPM

Chief Medical Officer & Consultant Pharmaceutical Physician

Matt Brennan

Partner at General Catalyst

Pangus Ho

Principal Software Engineer at Oracle

Anant Bhalla

Public company CFO/President level executive with 2 decades of financial services experience in U.S. and International markets operating & transforming large, complex businesses.

Yasmin W.