Mark (Menny) Gordon's Email & Phone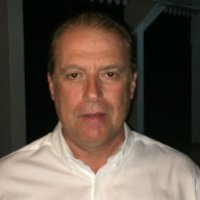 Mark (Menny) Gordon
President @ SaleFreaksUSA
Mark (Menny) Gordon Contact Details
Greater New York City Area
President @ SaleFreaksUSA
TrustedPeer Expert @ TrustedPeer
Head of Sales, Hi-Tech & Professional Services Vertical @ Tata Consultancy Services
B.Sc. @ Technion - Israel Institute of Technology
Technical Sales Executive with extensive experience in management and execution of solution sales, off-shore based services sales, outsourcing and technical products / projects in the IT, software, semiconductor, telecommunications and high-tech industries. Extensive background in electronics engineering, design and engineering management. Proven ability to architect, lead and execute solution oriented sales campaigns of technical product and/or service
ContactOut is used by
76% of Fortune 500 companies
Similar Profiles to Mark (Menny) Gordon
Royreen Davis, MBA

Benefits Advocate at UnitedHealth Group

Victoria Pashin

QA Automation Engineer at Argo Data Resource Corporation

Rory McCallum

Market Research Analyst at The Dieringer Research Group

Lindsey Wood

Associate Director, Vendor Relationship Management, Development Business Operations at Gilead Sciences

Jon Jensen

Software Development Manager at FamilySearch

Rida Fayyaz

Technical Project Manager at Tesla

Kurt Partlo

Finance Business Process Leader at Dow Corning

Christy DeBernardi

Director of Product Management at RO Innovation

Andy Wong

Software Developer at MicroStrategy

Kyle Freeman

US Marketing Manager - at Nike

Eric Carraux

Director, Software Engineering at 3M | HIS | M*Modal

Gary Chow

Staff Software Engineer at Marvell

Virgile Audi

Algorithmic Engineer at Afiniti.com

Daniel Dodd
Abhijeet More

User Experience Designer iGATE Technologies Inc.

Mackenzie Jellum

Development Director at Alliance Residential Company

Syed Aaquib Asad Andrabi

Senior Manufacturing Quality Engineer at LuK USA LLC

Christopher Garner

Director of Sales at a2z, Inc.

Raviwan Sansiub-Mckinley
Lydia Evans

Classroom Counselor at Seneca Family of Agencies

Dianne Boras

Epic Principal Trainer - Certified in Optime, Anesthesia ClinDoc and Stork - Yale New Haven Health

Holly Curtis

Director, MBA Admissions at NYU Stern School of Business

Nathaniel Turley

Senior Software Engineer - Emerging Experiences Practice at Razorfish

Nancy Minotti, RN

Director of Clinical Services at Nurse On Call

Stephanie Adamowicz

Senior Director, Luxembourg & Dayan

Matt Shaw

Experienced full-stack developer and architect building web applications and services.

Michael Jebb

Lead Software Engineer at Range Technology

Jay Milender

Director of Sales at Lampin Corporation

Chrissie Welch

Legal Counsel - Benefits at Shell Oil Company

Kevin Burgoyne

President & CEO at Florida Venture Forum

Christopher Munyan

President and CEO at CSS Industries, Inc.

Skye Spear

VP, Global Partnerships at Signifyd

Amit Dutta

Experienced Software Engineer, Technology Independent, Quick Learner

Mykella Gannon

Director of Marketing at COOLA Suncare

Steve Patti

Vice President Marketing at VP Racing Fuels

Joe Vanderstelt

SVP & Chief Financial Officer

David Hurng
Tony Lewis

A Senior Recruiting Specialist Connecting the Top Talent with the Best Companies and Organizations

Charles Mirarchi

Executive Director, Infrastructure & Operations, Comcast Corporation

Matt Lee

Vice President of Product at Aspiration

Victoria Lynden

Successful CEO and Social Entrepreneur, Philanthropist, Global Influencer, Speaker, Visionary, and Explorer.

Alex Fishman

Business Development Executive | Imaging | Consumer Electronics

Ravi Madireddy

Lead Software Engineer, Data at Cloudleaf, Inc

John Randolph
Alvin Smith

Director, Information Technology

TJ Lassiter

Account Manager | Enterprise Sales, Named Accounts @Alteryx

Daniel Miller

Manager of Business Development - IT Division at Addison Group

Terry DTM

★ ★ ★ ★ ★ Experienced Keynote Speaker | Self Esteem Architect ✔Helping Professionals be exceptional Speakers ✔

Yasmin W.