Kat Gregory's Email & Phone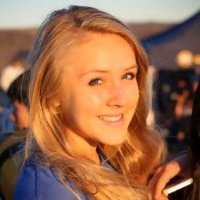 Kat Gregory
CS147 (Introduction to Human-Computer Interaction Design) Course Assistant @ Stanford University
Kat Gregory Contact Details
Stanford, California, United States
CS147 (Introduction to Human-Computer Interaction Design) Course Assistant @
Stanford University
Bachelor of Science (BS), Computer Science @ Stanford University
I am a Computer Science major and Human Biology minor in my fourth year at Stanford University. I get a kick out of combining logic and creativity to solve problems, am driven by connections with people, and have a bit of a thing for adventures.
CS 106 Section Leader @ Teach weekly CS106 sections of 12-15 students, grade
ContactOut is used by
76% of Fortune 500 companies
Similar Profiles to Kat Gregory
Ryan Przybyl
Frank Altman

President and CEO at Community Reinvestment Fund, USA

Gregory Kammerer

VP of Capital Markets at MLG Capital

Mark Layne

Accomplished Leader of Information Technology

Julianne Sherrod, CMSR

Physician Recruiter at EmCare

Liz Dearth

Senior Recruiter at J.Crew/Madewell/J.Crew Factory

Ilyssa Oss

VP, Executive Director, Business Operations at R/GA

Anatoli Murha

Business Development and Marketing Manager at Ukrainian Selfreliance Federal Credit Union

Eric Harkness

Customer Advocate and Enterprise Technology Evangelist at the World's #1 Cloud Company - Salesforce

Rama Zomaletho

Field Training Manager at American Telecommunications, Inc.

Vishal Kumar Hathagale

Sr ETL Developer, Enterprise Information Management, Assistant Vice President at Bank of the West

Katie Cowan

Attorney Recruiting & Development Coordinator at O'Melveny & Myers LLP

Sam Margolius

Executive Producer at Branch VFX

Moshe Landau

Financial Services Professional

Leeza Chebotarev

Art Dealer, Gagosian Gallery

Ragesh Narayan

Global Sales, Operations and Planning & Global Analyst Branding

Rusty Russo

Insurance Producer / Real Estate Sales / Seafood Company

Aurelius Sofia

Branch Manager at American Financial Network, Inc.

Grant Stoffle III, CPA

Controller at Vrdolyak Law Group, LLC

Jackie Krentzman

Communications strategist and storyteller

Gurkan Suel

Senior Sales Executive at LotLinx, Inc.

Isaac Okita, CFA

Vice President, Asset Liability Management at Bank of Hawaii

Ed Stokes

Commercial Sales at Arizona Tile

Lara Kaufmann

Director of Public Policy at Girls Inc.

Eric MLOD

President of Bailey Strategic Innovation Group, Keynote Speaker, Retreat Facilitator

Justin Cato

Principal / co-founder at Ripcord Digital Inc.

kevin arrix

Senior Vice President, Dish Media at Dish Network

Michael Hakeem

Director Global Talent Acquisition at Charles River Labs

James Nevins

Vice President Sales and Alliances, Americas at PeopleDoc Inc.

Eileen Reyes

Marketing @ Dropbox | Driving customer growth through storytelling

Sundar Raghavan

Director, Amazon Business Product & Tech (Hiring great PMs and engineers!)

Steve Schulze

President/CEO at Nekter Juice Bar

John Jr.

Vice President, Supply Chain Operations

Andy Singer

Vice President, Marketing at Kentik

Timothy O'Brien

CEO Ferdon, Member at Singularity University, Ethereum Alliance, Ex-Googler

Lee Sparaga

Senior Vice President Of Sales, Americas at Pixability

Kimbra Fox

Vice President, Alliance Partner Marketing at ADP

Susie Rust

Talent Acquisition Partner & Eco-Conscious Co-Owner Box360home(tiny homes, tiny pools (with waves) and retail pop ups!)

Sridharan Subramanian

Salesforce Technical Architect

Tracey Lester

Vice President of Brand Marketing

Chris Williams

VP NA Sales at EnterpriseDB

Ibai Urruchua

Sr. Director of Product Management at Bonobos

Daniel Schotland

Chief Operating Officer at Linqia

Terry DTM

★ ★ ★ ★ ★ Experienced Keynote Speaker | Self Esteem Architect ✔Helping Professionals be exceptional Speakers ✔

Satya Nadella
Yasmin W.
Looking for colleagues of Chris Shelby at Company Inc?