John Wakefield's Email & Phone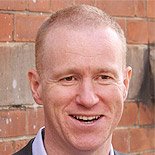 John Wakefield
VP Technology Engineering / VP Technology Delivery @ Pearson plc
John Wakefield Contact Details
VP Technology Engineering / VP Technology Delivery @ Pearson plc
Technology Director @ Pearson plc
Head of Software & Architecture Services @ Pearson plc
I am a self-driven and self-reliant leader who sets bold goals and leads by example. I work effectively at CxO level and place technology at the heart of business strategy. My broad technical background, spanning electronics through to large scale agile software engineering programmes, enables me to interact at all levels. With a track record of leading
ContactOut is used by recruiters at 76% of the Fortune 500 companies
Similar Profiles to John Wakefield
Kerri Howard

Special Education Teacher

Jeffrey Cerquetti, P.E.

Structural/Coastal Engineer with JMT Engineering

Venkatesh Chowdary

Quality Assurance Manager at Tata Consultancy Services

BJ Lanigan

Production Manager at Apogee Tool

Veronika Bensova
Tony Looper

Sr. Principal Engineer at Baxalta

Skyler Pierpoint

Cinematographer & Audio Engineer at SkyPoint Productions, LLC

Hilli Erb
Lizeth Ortiz

Owner at Downtown Fitness Center & Nutrition Center Inc.

Haley Harbaugh

Instructional Designer, Program Manager at DaVita | VillageHealth

Italo Cardin

Implementation Project Manager at Vallen Distribution Inc

Kamal Khetrapal

Finance SME - Assessment, Implementation, Upgrade and Support -Oracle Financial Cloud & R12

Frank Eichen

Controller at Contractors Cargo Company

Lynn Ainsworth

Director, Information Systems Services Division at Mississippi Department of Information Technology Services

Manuel Cepero

Area Service Manager at Aimco

Rebecca Pino

Senior Manager Global Sales Operations at UpToDate

Ashton Williams

Community and Content Marketing

Ameya Agaskar

Technical Staff at MIT Lincoln Laboratory

Meena Yeddula

Information Technology Manager at BodyGuardz

Jade Schwartz

Account Manager at SinglePlatform

Debbie Hadnett
Mary Deming
Tim Habeck

President, AmTrust Underwriters, Inc. (Division of AFSI)

Salvatore Castronovo

Owner, New Castle Properties

Kevin Gimenez

Inspirational leader, motivational speaker.

Morteza Hakimi Siboni
Katie Knobbe

Scheduling Specialist at Transamerica Mutual Funds

Jasmina Ramic

Senior Accountant at Planar Systems

Laurie Stafford
Ashley Lauren Barnard

Real Estate Transaction and Marketing

Terry DTM

★ ★ ★ ★ ★ Experienced Keynote Speaker | Self Esteem Architect ✔Helping Professionals be exceptional Speakers ✔

Satya Nadella
Gracie Pham

Software Engineer/Architect - Team Leader at Salesforce.com

Tristan Lohman

Senior Sofware Engineer at 47 Degrees

Victor Passichenko

Software Engineer at Facebook

Brendan Lundy

Software Engineer at Google - Cloud AI

Jisung Park

Senior Software Engineer at Bank of America

Amin Rahman
Michael Raney
Alexander Ramos

Senior DevOps Engineer at AppDynamics

Mike Jancola

Senior Android Engineer at MedBridge.

Jenner Felton

Senior Software Engineer at Counsyl

Harvinder Singh

Lead Engineer Distributed Systems| Big Data | Assoc Director, Software Development at IQVIA

Arthur MD

Principal, AJS PHARMA, LLC

Andrew Luo

Engineering Manager at Affinity, Inc.

Ben Lesh
Jon Balbarin
Todd Lee

Senior Software Engineer II at Uber

Jefferson Lai

Building and breaking things

Yasmin W.