Hugh Hunter's Email & Phone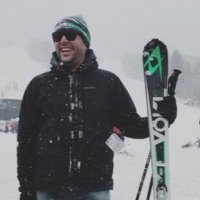 Hugh Hunter
Sr. Software Engineer @ Oversee.net
Hugh Hunter Contact Details
New York City Metropolitan Area
MFA @ University of Southern California
Seasoned software architect and engineering manager. Favorite technologies: Ruby, Amazon Web Services, Perl, memcached, Varnish, Redis, MongoDB, Linux, OSX
CTO @ CTO of Drizly, on-demand alcohol delivery now available nationwide, backed by $18mm from world class investors. From February 2015 to Present (10 months) Co Founder @ Nameberry is the leading content and community site for baby names
ContactOut is used by
76% of Fortune 500 companies
Similar Profiles to Hugh Hunter
Tate Severson

Senior Accountant at HLB Tautges Redpath, Ltd.

Randy Hardeo
Greg Troendly

Business Owner at Sonomas Bar & Grille

Hannah Whitehead

Intern, Universal Access Project at United Nations Foundation

Christina Sharp

Manager, Global Business Marketing

Phyllis Kraus

Sales Administrator for aether dbs

FAMOUS TRAINER

Personal Trainer at FAMOUS TRAINERS

John W. Auchincloss

Highly experienced chief legal/regulatory officer and senior manager.

Nelson Lyon

Metalworking Specialist at MSC Industrial Supply

Eric Bast

Research Associate, CMF and Thoracic Clinical Trials

Julie Speegle

Seeking Nursing Opportunities in Newport RI

Karen Matikonis

Print Production and Integrated Project Management Professional

Sara Singer

Attorney at Broward County Public Defender's Office

Ayumi Manabe

Operation Director at Comexposium Japan K.K.

Viviana Rodriguez

HR Assistant at Burris Logistics

Robyn Halpern

Key Accounts Manager at Spirit Leather Works

Christopher Mercado

Attorney at Machol & Johannes, LLC

Toshua Tripi

Licensed Social Worker at Pleasant Lake Villa

Danielle Barrante

Export Manager at Mettler Electronics

Gerry Hoy

Oracle Developer at Educational Testing Service (ETS)

Christopher Kaphaem, RN, BSN

Registered Nurse for Resource Support Unit

Cody Raiza

Artist / Student / Brand Representative

Andy Leipnits

Owner at Tree Time Incorporated

Aaron Conine

Experienced Carpenter (jack of all trades)

Marta Miller

Co-founder at Lefty Production, Co

Diana Turnage

Operations Leader at CUNA Mutual Group

Rosemarie Pedullo

Account Executive at The Advance Group

Ken Walser

Senior Account Executive at BENSERON INFORMATION TECHNOLOGIES - New Age for the POS

Sonia B. Scott

Student at Prairie View A&M University

Lawrence Peterson

Security Supervisor at Allied Barton Security Services

Terry DTM

★ ★ ★ ★ ★ Experienced Keynote Speaker | Self Esteem Architect ✔Helping Professionals be exceptional Speakers ✔

Satya Nadella
Benjamin LUK

Chief Technology & Data Officer at Launchmetrics (we are hiring!)

Yahia BOUSSAD

Consultant .NET at Microsoft/AXA

Damien Leflon
Benedict Lannoye

Chief Procurement Officer at Bombardier Transportation

Benoît Fabre

CTO and founder at Papernest (ex-Souscritoo) - Hiring!

Benito Diz

DSI, Directeur général, piloté par l'innovation, esprit d'équipe et leader, proche des métiers, expert IS/IT et digital

Mathieu Ledru

Developpeur chez Bigyouth

Pierre Puchois
Stéphanie Delestre
Adlen AFANE
Laurent Sigal

Co-founder & CTO at Waldo.io

Sami ARFAOUI

Ingénieur d'étude et développement BI et C# /.NET chez ConseQuant

Abhimanyu Babbar

Backend Developer at EpidemicSound

Isaiah Pacheco

Senior Software Engineer, DevOps

Duncan Bartlett

Software Engineer II at Porch

Tony McNevin

Principal Engineer at CWT/Roomit

Todd Hartline

IT executive focused on leading high performing teams and driving digital transformation

Yasmin W.
Looking for colleagues of Chris Shelby at Company Inc?