David Shimon's Email & Phone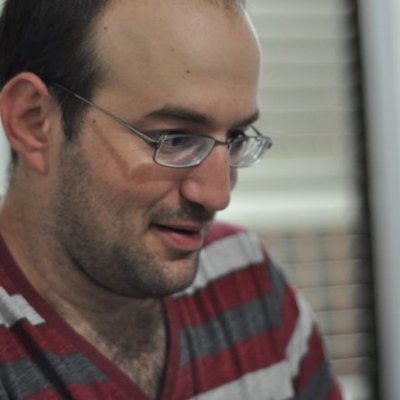 David Shimon
Senior Data Scientist @ LivePerson
David Shimon Contact Details
Binyamina, Haifa District, Israel
Algorithm Engineer @ Amadesa (aquired by LivePerson)
Software Engineer @ riseup
Data Scientist, Algorithm Engineer and Software Developer. My biggest passion is using data to generate great products.
Computer Science Courses @ Tel Aviv University From 2009 to 2010 MA, Excutive Program in Diplomacy and Security @ Tel Aviv University From 2005 to 2005 BSc, Computer Science, Math, Physics @ The Hebrew University From 2001 to 2004 David Shimon
ContactOut is used by
76% of Fortune 500 companies
Similar Profiles to David Shimon
Richard P.E.

President at Schiller and Hersh Associates, Inc.

Sen Zhang

Statistical Quant Analyst - Credit Risk Loss Forecast at SunTrust

Monica Quintanar

Associate Revenue Engineer at The Pedowitz Group

David Herder

Global Program Manager at Pegasystems

Daniel Tobin

Software Engineer at HYPACK, INC.

Warren Yang

Technical Architect Principal, B2B Commerce at Salesforce

Chris Vasta

Vice President of Operations at The CPAP Shop

adnan reza

Firmware and Software Engineer at Intel

Emmanuelle Thompson- deColigny
Dan Grant

Pipeline Integrity Engineer III at Plains All American

Zach Samaras

Senior Project Manager at McKinsey & Company

Eliberto Campos

Vice President/Small Business Banker

Lorraine White

Manager - Corporate Strategy at Deloitte

Jerry Fan

Principal Engineer - Layout Design at Broadcom

Ryan DeAngelo

Client Success Manager at Yotpo

Mikael Mossberg
Bhaskar Mishra
Darshan M

Sports Technology Futurist

bharat andalam

tech lead at Tech Mahindra

Ritu Passari

Partner, IBC Consultants Pvt. Ltd.

Saurabh Chopra

Associate Software Developer at CSC - Computer Sciences Corporation

Samit Deb

Chief People Officer at Birlasoft

Achint Setia

Software Development Manager at Amazon

Lalithkumar Jain

Software Engineer, Careem | Ex - Ola

Nuno Rosa

Creative Heda of Visual Merchanising

Shailendra Sajwan

RPA Consultant with experience in Pega RPA, Blue Prism, and Automation Anywhere

Ashish Godiyal

Student at Dehradun institute of technology

Nipun Thakur
Arkosnato Neogy

Machine Learning geek, e-learning enthusiast, self-specializing in deep learning

Pallavi Mishra

Head- Business HR, Aerospace, HTS, Honeywell

Andrea Mercado
Tyler Hall
James Kennedy

Data Center Delivery and Engineering at Google

Jack Gibbons

President/COO Front Burner Restaurants

Stephen Spehalski
Charity Lorenzen

Senior CRM Marketing Manager at Castlight Health

Matt Snow

Vice President of User Experience at Jam City

Janee Wafer

Manager, People at HelloFresh

Greg Lernihan

Board Member Akola, Edovo, Impact Engine, The Gathering, Impact Foundation, Convergint, Incubator.edu & MIGMIR

Bryan Wagman

SAP Project Manager at Refresco

John Johansen

Manager, Global Go-to-Market & Demand Generation at IBM

Bill Mateikis

HR Consultant and Legal/Compliance Advisor with international executive/attorney experience as CHRO and General Counsel

Siva Kalavagunta

Digital Transformation | M&A | Portfolio Modernization | B2B2C | SaaS | Strategy Consulting | SPC 4.6

John CTPE

Chief Procurement Officer (CPO)

Doron Friedman
Nick Riitano

Sr. Director, Pre-Sales at Salesforce Marketing Cloud

Risa Greendlinger

Senior Vice President of Sales at Rightway Healthcare

Rich PMP

Project Manager at Abbott

Robert Crawford

Director of Technology, Quant, and College Recruiting at Citadel LLC

Yogesh Shrivastava

Solutions Architect at Amazon Lab126
Looking for colleagues of Chris Shelby at Company Inc?