David Hu's Email & Phone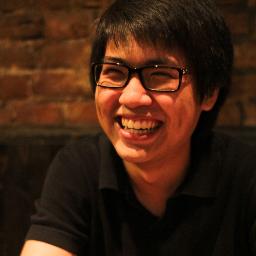 David Hu
Developer Products and Relations Manager @ Foursquare
David Hu Contact Details
Developer Products and Relations Manager @
Foursquare
Developer Products and Relations, Lead @
foursquare
Helping people build location apps with Foursquare.
Developer Products and Relations Manager @ Technical BD guy. Building location context into the world, one app/developer/business at a time. From July 2015 to Present (4 months) Developer Products and Relations, Lead @ From August 2014 to July 2015 (1 year) Developer Advocate @ From January 2013 to August 2014 (1
ContactOut is used by
76% of Fortune 500 companies
Similar Profiles to David Hu
Wladimiro Marcelli

'you have no right to be a leader if you don't let your people know where they stand' [Jack Welch]

Anthony Scotti

Senior Systems Engineer at Wintrust Financial Corporation

Theresa Campanella

S&OP Director - HTSG at Stanley Black & Decker, Inc.

Lingjia Zhang

Staff Engineer at Honda R&D Americas, Inc

Jorge Freddy Martinez

Investment Banking Summer Associate at Credit Suisse | MBA Candidate - The University of Chicago Booth School of Busines

Ali Vassigh

VP of User Experience at Roku Inc.

Melissa Hart

Marketing & Branding Executive ● Integrated Marketing ● Strategy ● Business Management ● Global/Multicultural Mindset

Tau Kotoni
Andy Moler

Sr. Compensation Manager at Bridgestone Americas

Bart Kohnhorst

Leadership Development Expert | Helps CEOs and Their Management Teams Develop Real Results

DAUOD THOMPSON

✯Implementing Industry 4.0 Mobile Quality Management Solutions✯Achieve Product & Process Excellence✯World-Class Quality

Matt Margolin
Steve Turner

Media and Marketing Professional

AJ Garron
Christopher Geddes

Program Manager, Mobile App Ads and Display Ads at Google

Aimi Nguyen

Sales Management at Paychex

Freyja Balmer

Head of Product at New York Public Radio

Whitney Stern

Senior Account Manager at Google

George EMBA

Principal | Transformation Leader | Enterprise Agile Coach | DevOps Strategist

Michael Belt

Vice President of IT Support Services at Little Caesars Pizza

Sarah Russell

Brand and Product Marketing

Jatan Patel

Software Engineer, Full Stack Developer with an internship as Data Engineer

Lori Dreischmeier

Senior Executive Assistant and People Operations

Steve Kallmeyer

Sales Account Executive at Dell Inc. - Helping others find the best solution to their problems

James P.

Data Analyst - IT Audit & Big Data Analytics/AML/KYC/FinTech

Eric Yoo
Eric F.

Principal Engineer - Technical Leader - VP/CTO

Diana Chow

Looking for an adventure. Previously Corporate Communications at Hootsuite.

Eugene Freidline

You can customize this invitation

Richard Potter

Senior Software Development Engineer at Amazon

Hilary Sun

Stanford Computer Science, Statistics, & History

Susie Aliker

Chief Executive Officer at BACB plc

Tyron Mott

Senior Partner Engineer at LinkedIn

Jared Goldsmith

Head of Series Marketing, Amazon Prime Video

Xiaozheng Qiu

Mobile Developer at Cover Genius

Ravi Parupudi

iOS Bluetooth engineer at Apple Inc.

Mark Rosenberg

Vice Chairman Of The Board at American Vision Partners

Paul MBA

CEO/COO | Board Service | Turnaround Mgmt | Growth & Sales Strategies | Int'l Sales & Ops | Private Equity Advisory

David Baker

Program/Project Manager at Walgreens (Randstad)

Nick LaVassar

Director of Software Engineering @ Wally Labs

Djarta MS

First-Class, Global Project Leadership

Janelle Lee

Vice President Human Resources and Organizational Development at Mosaic Life Care

Michael Yocca

Application Developer at Geopointe

Bartosz Struzik

CFO | Managing Director | Management Board Member | Digital Recruitment

Herjit Bhalla

Managing Director - India at The Hershey Company

Liviu Duma

Senior .NET DEVELOPER at Essensys Software

Jason Wang

Student at Stanford University

Julie Jaitly
Looking for colleagues of Chris Shelby at Company Inc?