Dan Chiprut's Email & Phone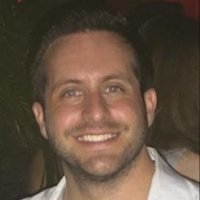 Dan Chiprut
Director, Publisher Sales @ 33Across Inc.
Dan Chiprut Contact Details
Director, Publisher Sales @ 33Across Inc.
Manager of Publisher Sales @ Verve
Account Executive @ CPXi
Account Executive @ Consumed Media creates content designed for today's digital media ecosystem. This content is designed to 'find' targeted users inline with their specific content consumption behaviors, engage them and allow them to easily 'share' with other interested users. This results in discrete audiences with similar interest sets, creating significant value for advertisers. Consumed Media content
ContactOut is used by recruiters at 76% of the Fortune 500 companies
Similar Profiles to Dan Chiprut
Ryan Robinson

Gaming Operations Manager at Sky Betting & Gaming

Omeed Nosrati

Accounts Director, EMEA at Fastly

Julie Rubio

Design lead at Nike (Paris city Studio)

Chris Dodd

Managing Director at Complete Green Solutions

Julien Sheridan

★CEO & ★Founder at ★Sheridan&Co★Global Design Agency★Retail Designers★International Retail Fixtures★Creative Wizards

Keith Dawson

Non executive director at Highway Resource Solutions

Jamie Gibbon

Interim Manager/Contractor - Available and looking for opportunities

Ross Nickson

Environmental Advisor - Clair Platform Operations and Drilling at BP

Martin Curran

Owner at Martin Curran & Associates

Tom Turner
Samonu Mwando

Managing Consultant at Goodall Brazier

Dr Trishul Vadi

Entrepreneur | Doctor of Chiropractic | Osteopath | Teacher

Sue Abel-Beswick

European Business Development Director at I-PAYE, UK and European Umbrella Services

Alicia Bamford

CEO / Managing Director at Queen of the Mountains

Ben Newton

Finance Director and Corporate Finance Adviser

Naeem Shaukat

Project Manager at National Grid

Olaf Meys

Senior Test Manager at AXA PPP healthcare, Professional Scrum Developer™

John Roddy
Sophie Pape

Recruitment Consultant – ICT into Education Division

William Towse

Business Development Manager at Mind Click

Julia Bennett

IFT practitioner for SMEs

Sef Chin

Asia TMT Investment Analyst

Emmanuelle Chrzavzez

Interior designer at Emmanuelle Lemoine Interiors

Jim Perry

Managing Director at Farrall's Group

Joe Zielinski

Director - Zinc Digital, Zware & CaptureSport

Richard Green

I help organizations realize the value of their professional audience

Alistair Gifford-Moore

Clinical Trials Manager, Advanced Therapies Centre at The London Clinic

Adrian Pope

Chief Digital Officer at [PIAS]

Judith Swan

Head of UK Wealth and Capital Markets - Financial Services at Microsoft

Sarah James

Senior Manager - People Strategy at Arm

Terry DTM

★ ★ ★ ★ ★ Experienced Keynote Speaker | Self Esteem Architect ✔Helping Professionals be exceptional Speakers ✔

Yasmin W.
John Youn

Senior Data Scientist at FogHorn Systems, Inc

Michael Urcinoli

Vice President of Information Technology at SoulCycle Inc.

Kunaal P

Android Developer at Verizon Wireless

Young Kim

Software Development Engineer at Amazon

Jacob Steele

Account Executive at SHI International Corp.

Ken Pedotto
Jeff Jarrett

SVP NA Derm, Cough/Cold, Digestive Health + NA Marketing, Analytics, & Digital Operations at Bayer Consumer Health

Rakin Hoque

Technical Lead (Mobile Development) at Guestlogix

Abhishek Bose

PSD® | Full Stack Scala Developer

Haluk PhD

Associate Principal Scientist, PDX Model Team Lead, Oncology Bioscience at AstraZeneca

Bruno Annicq

Chief Financial Officer at Gympass - helping the world find an activity to love

Steven Powell

Medical Oncologist at Sanford Health

Jaime Montemayor

Chief Information Officer and Executive Team Member

Vijay Ph.D

Vice President, Clinical Development, Oncology

Matin Ebrahimchel
Melissa Sacchiero

Vice President and CFO at DSM

Beatriz Loizillon

VP Procurement and Real Estate Panasonic USA

Shibani Mukerji

Neurologist at Massachusetts General Hospital; Visiting Scientist at Dana Farber Cancer Inst.
Looking for colleagues of Chris Shelby at Company Inc?