Craig Turton's Email & Phone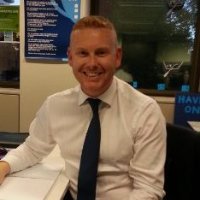 Craig Turton
Senior Manager @ Hays
Craig Turton Contact Details
I specialise in Public Sector Accountancy and Finance recruitment across the East Midlands region. Working with exceptional customers within the Non-Qualified Accountancy sector, my primary focus is to partner with candidates and clients, using the depth and breadth of my expertise and market knowledge to ensure we make the unique match that makes individuals, companies and industries
ContactOut is used by
76% of Fortune 500 companies
Similar Profiles to Craig Turton
Lidiya Ilchuk

Sr. QA Engineer at Fluid, Inc.

David Greiner

President at Greiner Buick GMC

Marie-Charlotte Roy

Assistant to Chef Daniel Boulud at The Dinex Group

Nathan Lewis

Vice President of Operations and Business Transformation at Werner Electric

Eric Solberg

Vice President, Academic & Research Affairs at The University of Texas Health Science Center at Houston

Lance C. Lessard

Southeast Sales Director, Measuring Manufacturing Excellence

Michael Tooley

Award Winning Executive in Sales, Management, Recruiting, Staffing, and Training in Pharmaceuticals and Construction

James Noble

Executive Vice President, COO & CFO

Cassidy Zerrer

Managing Director at Newmark Cornish & Carey

Nick Ankenman

Sales and Marketing Manager at Garza Industries

Jed Chrisman
Terrence Williams, MSM

Successful Human Resources Executive

Tim Dorn

Operations Manager, Retail Collection Funds Transfer, Letter Credit, In-sourcing, Reengineering, Business Continuity,TQM

Anna Perricci

Digital archivist, project manager and educator

Jinsu Wang
Jason Hughes
Jim Schweiger
Jim Gano

Owner - Crown Trophy of Flemington (NJ) and Host - "Takin' Care of Business" at Hunterdon Chamber of Commerce Web Radio

Jeff Silverman

Data Analytics Champion and Thought Leader

Dawn Hepper

Director of Retail Marketing at Starkey Hearing Technologies

Dan Siebers

Director of Procurement at Faith Technologies, Inc.

Kathy Sullivan

Sales Director, iScrap App

Alika Reid

Client Manager at Dimension Data

Hawkin Lui, O.D.
Don Jr.

Head of Industry at Google

Mitchell Briskin

Vice President of Strategic Relationships at Thermalin Diabetes, LLC

Chris Endrai

Reliability Engineer - Exxon Mobil Research and Engineering Company

Julie Zoumbaris

Vice President, General Manager at WNEM-TV5 Meredith Local Media Group

Tami O'Connor

CEO at Educational Innovations

Orion Richardson

Hiring for Product at Zynga!

Patty Trevino

Marketing Lead @ Carl's Jr

Steven Ou

CTO | Discovery Commerce | Forbes 30 Under 30 | Inc 30 Under 30

Nick Reva

Security Engineering @ Snapchat, previously SpaceX

George Martines

Enterprise Account Executive at Coursera

Andy Delgadillo

Account Executive at Adobe

Alyssa Fitzpatrick

SVP, Global Partner Organization at CA Technologies

Mike Green

Chemicals Search Consultant at TEC Group International

Richard Iggo

Senior Director - Marketing at Telltale Games

Wouter Jean Paul Vermeulen

Senior Media & Technology Leader

Steve El-Hage
Betty Chin

Enterprise Software / SaaS Sales Professional

Tom Lewin

Head of Talent Acquisition at Theron Technology Solutions

Michelle SPHR
Todd Mazza
Saager Mhatre
Uday PMP

Program Manager, Principal Firmware\​Embedded Software Engineer

Jeremy Verba

Experienced CEO/GM in Consumer Internet. Energetic Leader. Builder of Strong Teams. Creative & Strategic Mix.

Terry DTM

★ ★ ★ ★ ★ Experienced Keynote Speaker | Self Esteem Architect ✔Helping Professionals be exceptional Speakers ✔

Yasmin W.