Bella Fadida-Specktor's Email & Phone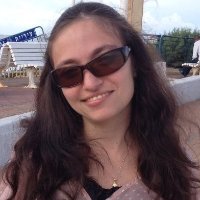 Bella Fadida-Specktor
CO-CEO @ Women Engineering
Bella Fadida-Specktor Contact Details
CO-CEO @ Women Engineering
Company Name Philips @
Intern in XBOX Team @ Microsoft
Software developer and Researcher in the fields of Machine Learning, Computer Vision and Data Mining. I am passionate about new technologies and algorithms which bring real innovation to our lives. Specialties: Machine Learning, Image processing, Computer Vision, Data Mining
Machine Learning and Image Processing Algorithms Developer @ Research and Development of algorithms for medical data in Machine Learning,
ContactOut is used by
76% of Fortune 500 companies
Similar Profiles to Bella Fadida-Specktor
Kenn Pedersen

Indkøbsdirektør / CPO at BAUHAUS A/S Danmark

Alice Weyergang

Financiel Controller at Dovista A/S

Jesse Lilley

Vice President of Marketing at Lumenpulse Lighting Inc.

Tommy Jespersen

Administrerende direktør hos Excellent Wine A/S

Anita Grotkær

Director for Filling at Carlsberg Supply Company DK A/S

Dadi Gudmundsson

Sr. Data Scientist, as a consultant

Niels Frænde

Vice President Sales - Cruise & LifeCraft hos VIKING Life-Saving Equipment A/S

Bjarke Pålsson

Board member / CEO & CFO/ Energy / Finance/ Growth/ Turn-around / Start-up/ M&A

Michael Mortensen

Purchasing Manager at OJ Electronics A/S

Mads Aaris

Project manager at Grontmij A/S - Danmark

Jesper Gjellerup Møller

Civilingeniør at Forsvaret

Anne Jastrup Okkels

Underdirektør at Trygfonden

Lone Grau-Hansen

Personlig rådgiver hos Danske Bank i Tønder

Henrik Schaar

Chairman of the Board, Randers HK A/S at Randers HK

Dorthe Bundgaard

Juridisk direktør, PFA Pension

Birgitte Rufford Probst

Owner at Rufford Karriererådgivning

Natalia Hering

Software Development Engineer at Microsoft

Ole Juul Jørgensen

Senior Contract Manager Wind Power at Dong Energy, Strategic sourcing professional, int. value creation in negotiations

Susie Druez

Global Demand Planner Gucci Make Up & Skin Care chez Procter & Gamble

Olivier Cantin

Head, EMEA Supply Chain at Lacoste

Urgent Azizi
Timm Suess

Senior Manager, Talent Acquisition & Analytics at Baloise Group

Love Ottosson

Summer Internship på ApoEx AB

Ola Berg

Head of Commercial at Saab Middle East

Jonas Weibull
nako okubo

Creative Director at McGarrybowen

Kerri Tuuri
Jared Goldstein

Strategy & Operations at Deloitte Consulting

Sumanth Gunda

Application Developer at Ericsson | Actively Seeking Full Time Opportunities

Samantha Garfield

VP, Brand and Strategic Communications U.S. at The Collective

Christina Finkel
Tom Vepraskas

Account Executive at Salesforce.com

Derek Leung

Associate at L.E.K. Consulting

Carolyn Donnelly

Lead, Learning and Development at CHANEL

Joseph Haniford

Chief Operating Officer - Carpenter Technology

Amit Prakash

Partner- Oil & Gas (US Upstream Lead)

Mansour Shams

PhD Computer Engineering (Data Science, Machine Learning, Statistics)

Amit Narayan

Technologist, Innovator, Entrepreneur

Seth Halpern
Dennis Keane

Chief Information Officer at Red Wing Shoe Co.

Ann Lundberg

Strategic digital media sales & marketing executive | advertising | digital | social | mobile | advanced TV | OTT

Amanda Degnan

IBM inside sales specialist- MaaS360

Mike Canarelli

Web Talent Marketing // Shyft Careers

Randy Beringer

Senior Director, Product Design

Juan Carrera

Sr. Vp Global Operations & Mfg Strategy Dover Corp.

Dan Robertson

Vice President, Olympics Information Technology at NBC Olympics

Steven Raspudic

Software Architect, Database Internals at salesforce.com
Looking for colleagues of Chris Shelby at Company Inc?